100 Mpg Carburetors: Do They Really Work?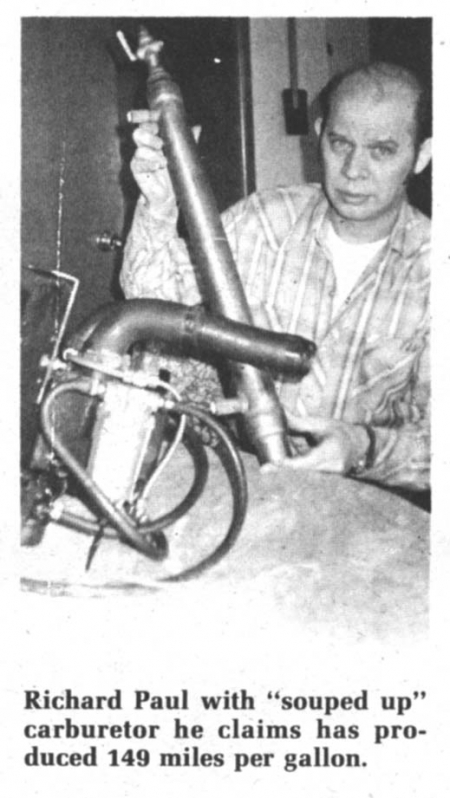 "I've averaged 80 miles per gallon over more than 7,000 miles in my Oldsmobile Toronado," says Richard Paul, Janesville, Wis., the energetic inventor of a new high-mileage carburetor that he feels "will revolutionize the auto industry."
Paul "went public" with his invention just a few months ago with the help of his local newspaper. Despite the paper's limited circulation, word spread across the U.S. and he's been answering calls and letters ever since. Some of the inquiries scare him because, he says, "I've been getting a lot of pressure and resistance from private individuals and corporations who don't think the world is ready for a carburetor like this. I even have some fear about my well-being. But I'm not going to sell out."
Paul claims to have gotten as high as 149 mpg with his first prototype carburetor. He's now building a second model to mount in a 283 Chevrolet Monza which he fully expects to pass the 180 mpg fuel mark under a monitored fuel efficiency test.
Much larger than an ordinary carburetor, the unit essentially vaporizes the gas, mixes it with water vapor and feeds it to the cylinders.
Richard Paul's case is far from unique, as he himself found out when he went to patent his invention: "Thousands of high-mileage carburetors have been patented throughout this century. If they had all lived up to their inventors claims, we might not have an energy problem today," he told FARM SHOW.
What happens to high-mileage carburetors and fuel devices after their first flash of publicity?
To find out, FARM SHOW recently attended one of the many "high-mileage seminars" that are springing up across the U.S. The "100 Mile Per Gallon Seminar" we attended was presented by New Energy World, Inc. of Van Nuys, Cal. Some 400 farmers and mechanics paid to hear what was billed as "the real story" on high-mileage carburetors, and to get first hand, "how to" information on building their own fuel-saving carburetors.
Brad Dennis, a combustion engineer from St. Paul, Minn. who participated in the seminar, has done extensive research into 100 mpg carburetors and writes a newspaper column on energy. He says inventions of high-mileage vapor carburetors -- like Richard Paul's -- often follow a similar pattern.
"Everyone gets excited about them and then, for no apparent reason, they disappear. Often, it's the EPA that won't approve the vapor-type carburetors even though they more than meet clean air standards. The inventors try to fight but the government has unlimited resources, so they lose. The patent office has issued patents on 6,500 high-mileage carburetors. How many ever came on the market?" asks Dennis.
The Pogue Carburetor
But there are other reasons such carburetors fail. Many of them just plain don't work. The Pogue carburetor, invented by Canadian C.N. Pogue, stormed onto the U.S. and Canadian scenes in the 1930's and regularly pops back into the limelight every five or 10 years.
When the carburetor first appeared, it was said to boost gas mileage to as high as 200 mpg. Many of the reports were well-documented, which accounts for the continued interest in the unit. In all, less than 100 of the carburetors were built.
Pogue, who is still alive and admits the carburetor doesn't work, has explained the failure this way: Before 1936, most gasoline was produced by a "skimming" process which produced less gasoline per barrel of oil but vaporized easily. When oil companies moved to a chemical "cracking" process, they were able to get more gasoline but produced a product that needed higher heat to completely vaporize. A varnish would build up in his carburetor's vaporizing chamber.
Many skeptics, however, don't buy that explanation. They maintain that the real reason high-mileage carburetors never end up on cars is because they're "bought up" by big oil companies and shelved. "That's pure nonsense," counter the oil companies, pointing out that patents are public information. Anybody can copy the patent and go into production. Oil companies, they point out, couldn't possibly "buy off" millions of people.
Tom Ogle, El Paso, New Mexico, is a more recent inventor of a highly publicized high-mileage carburetor. Initial reports on the carburetor in the mid-70's claimed Ogle had achieved 100 mpg on cross country trips in a full-sized car.
Ogle has gone "underground" with an unlisted number in El Paso, but he reportedly first got his idea for the carburetor when he accidentally poked a hole in the gas tank of his lawn mower. He claimed he ran a hose from the top of the tank directly into the carburetor and the engine kept running for 96 hrs. on just the fumes from the fuel remaining in the small tank.
Ogle used the same concept on an automobile, gathering fumes from the gas tank and piping them, rather than the liquid, to the engine.
Many people assume that the Ogle fuel system was "bought up and buried", but FARM SHOW learned that a Seattle firm -- Advanced Fuel Systems, Inc. -- bought the manufacturing rights. Although company spokesmen say they had high hopes when they bought it from Ogle, they now concede that the carburetor won't work.
"It'll burn off the higher fraction in the oil and get phenomenal mileage but what's left in the vaporization chamber turns into thick black oil. You can run mileage tests and impress lots of people but, as a day to day fuel system, it's just not feasible," says Advanced Fuel Systems engineer Warren Brengman. Instead of the Ogle carburetor, the newly-formed company is coming out soon with a new "throttle body ignition system" that they say is a practical way to increase gas mileage by as much as 50% with computer control of engine temperatures and fuel injection.
Many other vapor carburetors are being worked on across the country, including one at Flex Carburetion in Carson City, Nev., where millions of dollars have reportedly been spent but which has now been shut down because of failure to receive federal EPA approval, according to one report. Another firm, Mount Rushmore Fuels, owned by Keith Swenemen in Colorado, has developed a carburetor equipped with electric-heating thermisters that provide superheat to completely heat even hard-to vaporize modern fuels. Their unit is scheduled to come on the market this year.,
Denny Ray, of Crookston, Minn., has set up a company -- Mark I Fuel Systems, Inc. -- to build and market his fuel device which fits between the carburetor and intake manifold. He claims to raise gas mileage 10 to 20% by atomizing fuel just before it enters the cylinders so it'll burn more completely. He's sold several thousand of the devices since last July.
High-mileage carburetion systems are also being developed for new fuels. Herb Hanson, an engineer in Elgin, Ill., has developed a preheating, vaporizing carburetor for alcohol -- the first of its kind.
"We consistently get 70 to 75 mpg in a Ford Pinto on 140-proof alcohol. The car got 32 mpg maximum on gasoline," Hanson told FARM SHOW. "There's no pollution and the car has as much or more power. We're trying to find a manufacturer right now to produce it."
Hanson's new fuel system uses both the heat of the engine and two 100-watt electric immersion heaters to vaporize alcohol before it's fed to the cylinders through a conventional propane gas regulator. The car actually starts on propane and runs on it for about 5 min. until the engine warms up.
"In converting a vehicle, we remove the carburetor, radiator, fan, and catalytic converter. The vaporizer mounts where the radiator was. Because the engine burns cooler with alcohol, you don't need that cooling system. And it burns clean enough so the catalytic converter is wasted equipment," explains Hanson.