Slick Way To Mount Spray Tanks On Tractor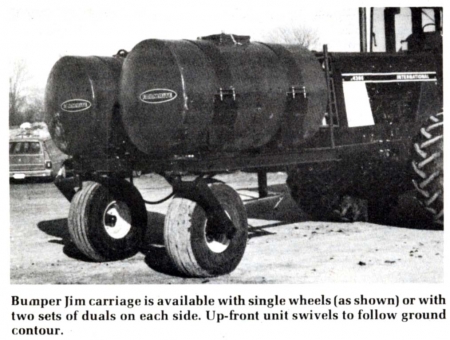 "We couldn't keep up with demand so we turned it over to a company big enough to handle it," says farmer inventor Jim Henning, whose unique front mounted carriage for mounting spray tanks on big tractors was first featured in FARM SHOW a year ago. It's now being produced and marketed by Lee Blacksmith, Rochelle, Ill.
The front-mounted Bumper Jim carriage is available with single or dual wheels, depending on size of the tanks to be carried.
In addition to fast hookup, Bumper Jim is said to provide greater capacity for carrying herbicides and puts less weight on the tractor. "You don't break axles and bearings from carrying all that extra weight. And, the tractor is free to carry a rear-mounted cultivator for once over, lay-by cultivation, fertilizing and spraying," the manufacturer points out.
Bumper Jim units can be fitted to both 2 and 4-WD tractors. The largest 1,000 gal. unit (two 500-gal. tanks) weighs 1,200 lbs. (without the tanks). Carriages for two 400 or two 300 gal. tanks are also available. Tanks generally are used for herbicides but can also be used for liquid fertilizers and insecticides.
Three-fourths of the weight is carried by the Bumper Jim and its 16.5 L caster wheels. The frame has a walkway for easy filling and servicing. The unit swivels to follow contour of the ground independently of the tractor.