Silver Marker Eliminates Misses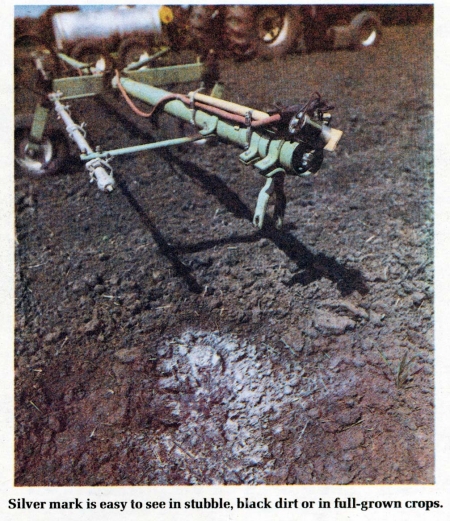 The hottest new way to eliminate sprayer misses and overlaps is a new silver spot marker, originally developed by a Canadian farmer to solve problems on his own farm.
The Adja Silver Marker, invented by Al Poffenroth, of Delacour, Alta., is a 12-volt marking system that mounts on conventional spray booms and lays down intermittent, highly-visible silver marks. The marks are made by an aluminum based concentrate mixed 20 to 1 with diesel fuel.
"The marks can be seen in stubble, on black dirt or in full grown crops for several days. They're not affected by heat, sun or wind like many foam markers," says Don Unterschultz, vice president of Adja Industries, the company formed to manufacture the new marking system.
"Size and frequency of the marks is determined by the operator with a preset electronic timer. A manual override switch lets you lay down additional marks wherever you wish, such as at the end of the field," says Unterschultz.
"The concentrate is made from non-toxic, commercially pure aluminum. The material does not have any adverse effect on crops, nor does it irritate the skin. Since it's mixed 1 qt. concentrate to 5 gal. diesel, it's just like fueling your tractor," explains Unterschultz.
The system consists of a storage tank, surge tank, 12-volt diaphragm pump, electronic controls and spray tips for both ends of the spray boom. One fill of the 6-gal. tank is enough to mark 200 to 600 acres, depending on field conditions. The system mounts on most sprayers and can also be used on grain drills, fertilizer spreaders and liquid applicators.