---
Check out our FREE Classified Ad sites!
Do-It-Yourself Well Drilling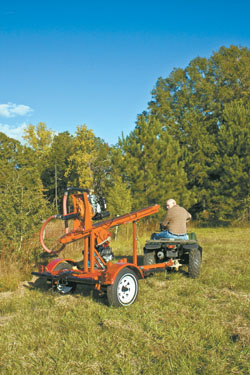 If you need multiple wells in remote locations, or you're looking for a sideline business, a DeepRock M50 may be the answer. This ATV-sized, trailer-mounted well-drilling rig goes anywhere and drills as deep as 300 ft.
"You have to check local zoning and codes, but most places let you drill on your own property," says Ray Swords, DeepRock Manufacturing. "With our M50, you can do the work of bigger, more expensive rigs."
Designed to be pulled behind a truck, tractor or ATV, the M50 has a stable 50-in. wheelbase, yet is compact enough to fit into tight spaces. It can drill holes with up to a 6-in. bore. The 5.5-hp Honda Industrial Series engine provides plenty of power to the heavy-duty gearbox, contractor grade mud pump, and power swivel. The M50 is designed to be equipped with premium drill stems and either 4 or 6-in. bits. Three leveling jacks make it easy to align for drilling. The company offers a wide variety of packages and accessories for different conditions.
"The three things we need to know before you buy a package is how deep you need to go, what size casing you want to install, and what you'll be drilling through," explains Swords. "With that information, we can generally set you up with a rig that'll meet your needs."
Most of the information needed can be obtained from a local permitting office. Swords says in most locations the well driller has to turn in a log after drilling a well. Reviewing ones from your area can supply the information needed.
"Most people who buy them in this country have ranches or are going into business to drill wells for others," he says, noting that the company sells rigs all over the world.
Many customers are drilling shallow wells for watering gardens or for cabins, adds Swords. He's also seeing a growing interest in custom well drilling for geothermal installations.
Prices vary with the type of package needed. Even a one-time use can pay for itself depending on the location. "Well drilling can run pretty expensive in California, but only much less expensive in Florida," notes Sword. "But we find that 85 to 90 percent of the time you can save money by drilling your own well."