Do-It-Yourself Hard-Facing Rods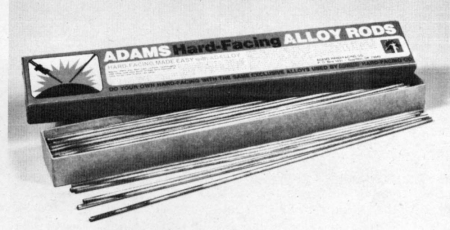 Adams Hard-Facing Company., leading manufacturer of hard-faced tillage tools, is now making available for do-it-yourselfer's the same alloy rods used in the company's Guyman, Okl., plant.
The special rods, made by the centrifugal casting method, can be used on the cutting edges of cultivator shovels, chisel plow blades, dozer blades, and on the tines and teeth of many farm and industrial tools.
Adams Hard-Facing Alloy Rods come in 5-lb. cartons for the do-it-yourselfer, and in 50-1b. cartons for volume users.
Adams also make the Adalloy Plow Point Bar that welds directly to blades to prevent the buildup of worn blades, and Adams Hard-Facing Paste, which is applied to the edge to be hard-faced, then bonded with an acetylene torch.