Auto-Proof Mail Box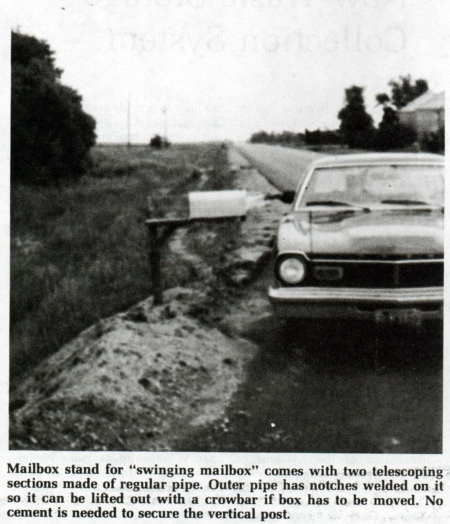 Tired of having his mailbox knocked over by passing vehicles, retired Nebraska farmer Joe Jorgenson decided "there's got to be a better way".
His answer: A new patented mailbox that swings out of the way when hit. Its swinging feature also makes it easier and safer to retrieve mail from the box, particularly for boxes along busy highways. Instead of having to walk onto the road and in front of the box, the box can be manually spun around and opened "from behind". After taking out the mail, you simply flip it to swing it back into position for the mailman's next trip. Another feature allows newspaper boxes to be placed alongside the mailbox on the swinging stand. Individual stands can be equipped to handle up to six separate mailboxes and newspaper boxes.
"I'm retired and would like to make an arrangement with an interested manufacturer with nationwide distribution to take it over," Jorgenson told FARM SHOW. At present, a local machine shop is manufacturing the product for him.