Clutchless "Rite" Tractor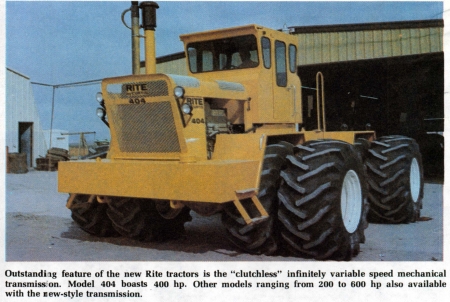 Custom built "clutchless" tractors equipped with a first-of-its-kind transmission are now in commercial production at Great Falls, Mont.
Designed and developed by Dave and Jack Curtis, of the D. L. Curtis Co., they're reportedly the first farm tractors to feature an automatic, infinitely variable speed mechanical transmission.
"We think it's the biggest breakthrough in tractor design to come down the pike in many years," Dick Curtis told FARM SHOW. "We're calling it the Rite tractor because that's exactly what it is -- the right tractor for the farmer who wants the most for his money."
Outstanding feature of the patented mechanical transmission with infinitely variable speed is its high efficiency compared to hydrostatic drive transmissions, Curtis points out.
New Rite tractors are available in 5 different models ranging from 200 to 600 engine hp. They're available with the new-style transmission; a Kt 400 Cummins diesel engine (Detroit or Caterpillar optional); A Rite transfer case designed by the Curtises; a Spicer driveline; a Clark or Caterpillar axle; a 60-in. wide custom-built cab; 30.5 by 32 duals; and Budd type wheels. The model pictured weighs 45,000 lbs. and measures 15 ft. 11 in. wide (with duals). Like all models, it can be ordered with a conventional transmission (Ag 212 Fuller with 15.5-in. double plate self-adjusting clutch) but the Curtises anticipate that most customers will want the new "clutchless" and infinitely variable speed mechanical transmission.
Its speed is infinitely variable from 0 to 20 mph. You just dial in the speed you want and the automatic transmission takes over. In tough going, it automatically shifts down to retain the preset speed.
For the past 20 years, the Curtises have specialized in redesigning and remodeling 4-wheel drive Wagner and other 4-wheel drive tractors. They began custom building new 4-wheel drive tractors three years ago.