---
Check out our FREE Classified Ad sites!
Add-On Chopper Kit For Axial Flow Combines
FARM SHOW Magazine
» Add-On Chopper Kit For Axial Flow Combines
Add-On Chopper Kit For Axial Flow Combines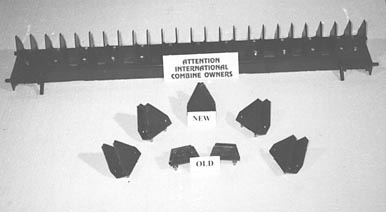 "We bought a 1460 Case-IH Axial Flow combine in 1979 and at that time we were told a straw chopper was not necessary in a rotary combine. We believed what we were told and found that if conditions were perfect, or extremely dry, it would do a reasonably good job chopping straw. The problem was that if we started before the dew had dried off, or if we worked after dark, it would not chop wheat or soybean straw," says Brian Skipper, Tilbury, Ont., who first tried keystock grates and notched bars on the rotor but nothing worked as well as other combines fitted with choppers.
"In 1992 we bought a 1688 Axial Flow and had it fitted with a factory chopper, which we figured would solve the problem. Unfortunately, it didn't. If the straw was a little damp or green, it didn't chop the straw well at all.
"We decided to take the chopper apart and guess what we found? The chopper bar was fitted with short, blunt, U-shaped cutter blades. It seemed obvious they wouldn't cut very well. We went back to our dealer to buy the longer version of the cutter blades, but they were also blunt and wore down too fast when sharpened.
"We decided to fit the chopper bar with regular sickle sections. We made a few prototypes using full sickle sections. They worked well, chopping the straw much finer so it would spread better. The sections wear well and stay sharp longer. We've used the same set for the past two year doing about 300 acres of wheat and 600 acres of beans each year. We feel this set will last another year before we have to turn them around to use the other side. They cost about the same as buying replacement cutter blades from Case-IH.
"They're easy to install and will fit all Case-IH Axial Flow combines. A set includes a package of 13 cutter blades with bolts and complete instructions."