"Swather" Zero Turn Riding Mower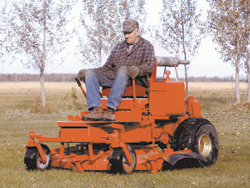 Dewayne Madoll, Salol, Minn. built a powerful 5-ft. zero turn riding mower out of a Versatile swather and other salvaged parts, including a 60-in. Arts Way mower deck.
The mower is powered by the swather's original 4-cyl., 28 hp Wisconsin engine. The front caster wheels are from a Minnesota pull-type mower while the rear wheels are off a Polaris ATV.
"The rig is hydrostatic, with a zero turning radius, so even though it's big, it's very maneuverable," says Madoll. "All I bought were three belts and three pulleys. I spent very little to build it. Even a used zero turn mower would have cost significantly more."
He started with a 1950's Versatile 400 zero turn swather, which he narrowed down so the wheels would match the width of the 60-in. mower.
Madoll says mounting the mower on the swather was simple. He built a bracket on back of the mower, so he could mount it where the header had fit onto the machine. The swather's upper header mount arms are used to lift the deck.
He used part of the frame off an Owatonna swather to support the mower deck.
The final step was getting power to the mower, which was originally belt-driven. Madoll added a right angle gearbox on top of the deck. The engine pto-drives the gearbox, which uses a pulley to belt-drive the deck's blades.
"I use it to mow my 2 1/2-acre lawn. It works better than I had even hoped," says Madoll. "I can turn on a dime, and I have an excellent view of the deck in front of me. The seat is off a boat so it has a comfortable ride.
"I remounted the engine's muffler to deflect heat away from the driver. I use the steering levers off a Sears Craftsman riding mower to turn, and a foot-operated peg to hydraulically raise or lower the deck.
"I happened to have a gallon of leftover Allis Chalmers paint so I painted the machine Allis orange."