---
Check out our FREE Classified Ad sites!
Mini Dozer Does Work Of A Bigger Machine
FARM SHOW Magazine
» Mini Dozer Does Work Of A Bigger Machine
Mini Dozer Does Work Of A Bigger Machine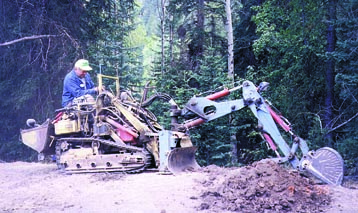 When he couldn't find a commercial-built bulldozer small enough to do the jobs he needed done, Erroll Borsky, Burnaby, B.C., decided to build his own mini dozer. It's just 3 ft. wide and runs on homemade steel tracks 5 ft. long.
The hydrostatic-driven rig is powered by an 18 hp Kohler gas engine. It weighs only 4,000 lbs., making it light enough to haul in the back of a pickup. It has a 2 1/2-gal. fuel tank. Borsky made a variety of quick-release attachments for it including a 36-in. wide loader bucket, an 8-ft. snow blade, and a front-mount, 18-in. wide backhoe. The bucket lifts up to 800 lbs. and the backhoe bucket rotates 270 degrees and has a reach of 10 ft.
"Everyone who sees it at work is totally amazed. I built it because I race motorcycles and needed a small dozer for clearing motorcycle trails on hillsides. The ones I looked at were either underpowered or too big and they didn't turn properly or have enough ground clearance. The smallest commercial dozer I could find was 43 in. wide. Mine is very maneuverable, yet it has enough power to push over a 6-in. dia. tree. I've dug out virtually any size tree or rock that a big machine could dig out. The only difference is that the job takes longer.
"I have already done a lot of custom work with it so it has paid for itself. I've had offers to buy it but I have too much fun operating it. Top speed is about 4 mph, but the rig doesn't have any suspension system so most of the time I just creep along with it."
The 18 hp engine is connected by a centrifugal clutch to a common shaft that drives a hydraulic pump. The pump drives separate Char-Lynn motors on tracks as well as the attachments.
"Because the axial piston pumps are infinitely variable, I can run the engine at about half throttle most of the time," says Borsky. "As a result I can go for about 4 hours on 2 1/2 gallons of fuel. The engine compartment is small and doesn't have an inch to spare. It was pretty tricky getting everything to fit - I even had to build a custom air intake and an exhaust system for it."
To build the pads for the tracks Borsky made 1/4-in. thick, 3 by 6-in. pieces of steel and welded them to a 3-in. pitch conveyor chain. Then he welded steel plates and grousers onto each link for increased traction.
"The only problem I've had with it is when mud builds up on the undercarriage and tracks, causing a grinding action that wears out parts," says Borsky. "It works best when the sun is out and the ground is dry."
Borsky would like to find a manufacturer interested in the design.