---
Check out our FREE Classified Ad sites!
Front-End Loader For ATV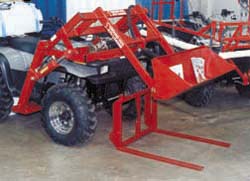 Just when you thought you'd seen everything, along comes this front-end loader that mounts on 4-WD ATV's. It was introduced at the recent National Farm Machinery Show in Louisville, Ky.
The "Ground Hog Loader", marketed by Smucker Mfg. of Harrisburg, Ore., comes with a bucket as well as pallet forks. The loader is operated by an electro-hydraulic power unit that mounts on the front rack and is wired to the ATV's battery. The loader arms are secured by two pins to a permanently-mounted steel plate that bolts underneath the machine. The arms are raised or lowered by a pair of cylinders. A third cylinder is used to tilt the bucket.
Extra front end suspension -- such as springs or air shocks -- are required to support the weight of the loader.
"It lets your ATV do the work of a small loader tractor," says Rob Smucker. "It was invented by an Oregon apple grower who wanted a way to handle pallet-mounted fruit crates. So far we've designed mounting brackets to fit the Polaris 500 Sportsman, Honda Foreman, and Yamaha Grizzly. We plan to offer mounting brackets for other models in the future, and we're developing a hay rake and snow plow for the loader.
"The bucket is 47 in. wide and works great for pushing feed into alleyway bunks, scraping manure, hauling dirt or gravel, etc. It'll lift up to 400 lbs. to a height of 42 in., depending on the size of the tires and the type of front end suspension. With a 400-lb. load the ATV's back end starts to get light, but the back wheels won't leave the ground."
"The loader's electro-hydraulic power unit requires more power than the ATV's original battery can handle, so the original battery should be replaced with a deep cycle gel cell battery."