---
Check out our FREE Classified Ad sites!
Combine To Snowblower: "It's Not That Hard To Do"
FARM SHOW Magazine
» Combine To Snowblower: "It's Not That Hard To Do"
Combine To Snowblower: "It's Not That Hard To Do"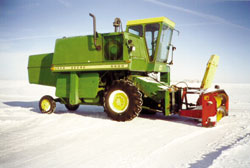 Converting a combine into a snowblower doesn't have to be an expensive, complicated job, says Richard Heyduk, Watertown, S. Dak., who mounted a FarmKing 8-ft. snowblower on a 1975 Deere 6600 combine.
"It works great, looks nice, and was simple to set up," says Heyduk.

He bolted a gearbox equipped with a pto shaft onto the feederhouse. The gearbox is chain-driven off the lower feederhouse variable speed shaft. He made a 3-pt. hitch type bracket and mounted it on the feederhouse so the feederhouse lift cylinders are now used to raise or lower the snowblower. The combine's reel lift hydraulics are used to operate the snowblower spout.
"It's quite an attention getter, but it's also a very practical machine for blowing snow," says Heyduk, who made the conversion a year ago. "I really enjoy sitting in the combine's nice, warm heated cab and also being able to look ahead instead of back while blowing snow. I'm up in the air where I can see real well. I didn't alter the snowblower at all, so it takes only a few minutes to remove it from the combine and hook it up to a tractor. My friend Val Jaspers manufactured the shafts and mounted the gearbox for me. The 3-pt. hitch on the feederhouse lets me drive into the snowblower and hook it up just like I would back into it with a tractor.
"The combine was in excellent shape when I bought it. The wheels on the combine were too wide and extended beyond the outside edges of the snowblower, so I replaced them with 18.4 by 26 wheels. The new wheels are only slightly wider than the snowblower, which isn't a problem at all."