He Built His Own Hummer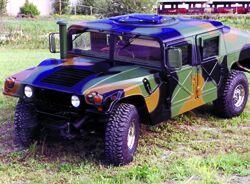 Thomas Christoph of St. Albert, Alta., wanted his own Hummer for "extreme 4-wheeling" but he couldn't justify the cost. He decided to build his own. Ten months and more than 3,000 rivets later, he now drives his eye-catching home-built vehicle to and from work.
Since he is a computer systems analyst by day, he completed the ambitious project in his spare time. Although there are Hummer replica kits available, Christoph said he wanted to build his from scratch because it would be far less expensive and he would have the freedom to make it more authentic.
"I've always liked Hummers, and they are quite a good candidate to build from scratch because they are fairly square, with few curves," he explains.
Before starting his own project, Christoph spent a lot of time familiarizing himself with Hummer replicas by reading and researching. Once he began planning his project, he was very careful not to violate or infringe on GM's copyright in any way.
He says "civilian Hummers" cost a lot, but he was still able to build his military version, which includes far more features, for $much less. Civilians can buy surplus military Hummers, but they are in very limited supply.
"Mine is cheaper to maintain because I'm using standard Chevy parts which are far more affordable and easily accessible. Prices for authentic Hummers are very high because of the prestige factor. There's a lot of resentment in the Hummer community against these replicas and it's gotten to the point where I don't bother telling anyone that I built this one myself. They say, hey, nice Hummer, and I just say thanks and leave it at that."
The exterior is dimensionally identical to a plastic toy model he has because he used a caliper to take measurements of the toy and then expanded them to scale. It worked out so well he has formed a company called Rocky Mountain Coachworks to market his do-it-yourself plans.
It only took Christoph 10 months to complete all the basic body and chassis work, making it driveable. The trim and interior took two more months to complete.
Christoph started with the frame and both axles off a '78 Chevy Suburban and shifted the whole drive train back 17 in. so he could mount the radiator at a 45 degree angle. He had a 420 hp engine built at a race shop, bought a refurbished transfer case, and had a transmission custom built to match the horsepower the engine puts out.
He did all of the sub-frame and vehicle body metal fabrication by himself in his two-car garage. The completed unit weighs 6,500 lbs. Christoph located Military Surplus parts off the Internet to put together the hood, windshield frame, roof, doors, and slant back.
The unit has a fully operational turret (minus the artillery) and bulletproof glass.
The interior is another story, with all the bells and whistles any civilian could want. He installed a DVD entertainment system, a 2,500-watt stereo system, a GPS satellite navigation system with laptop, and a rearview color camera system with a 7-in. LCD display in the same location that a rearview mirror would be.
He has compiled a detailed set of plans that he will sell to others who wish to build their own Hummers replicas. He also sells a CD that follows the building process of his machine. It includes 2,500 photographs, 51 minutes of TV quality video clips, 18 time-lapse video clips showing the Hummer taking shape, and daily journal entries that chronicle the process from beginning to end.