---
Check out our FREE Classified Ad sites!
Super-Sized Pickups: The Next Big Thing
FARM SHOW Magazine
» Super-Sized Pickups: The Next Big Thing
Super-Sized Pickups: The Next Big Thing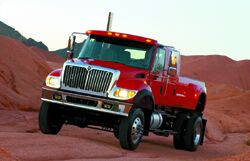 Truck manufacturers and dealers are turning commercial-sized trucks into super-sized pickups that give you the versatility of a pickup with the power of a truck.
The super-sized pickups rival semi-trucks in pulling capacity but they don't come cheap.

International Big Red: This Big Red 7300 pickup was put together by an International Truck dealer in Phoenix, Arizona. The base truck comes standard with full-time 4-WD and is powered by a 215hp DT 466 diesel engine that cranks out 540 ft.-lbs. of torque between 1,400 and 2,100 rpm's. It has an Allison 5-speed automatic transmission (a manual transmission is optional). A big chrome stack and other bright metal work on the rig make it somewhat resemble a semi tractor. The bed is a full 10 ft. long and will accommodate a fifth wheel for pulling big trailers.
With a gross axle weight rating of 10,000 lbs. in front and 17,000 in back, this truck is a Class 7 vehicle by GVWR standards. Its GVWR means the driver needs a Class B commercial driver's license, a requirement that kicks in at 26,001 lbs. Class 7 vehicles can carry 33,000 lbs. on two axles and up to 70,000 with a trailer, which is just 10,000 lbs. less than a Class 8 semi tractor and trailer. The pickup can also be purchased with a 16,000-lb. front axle and 30,000-lb. rear axle, giving it full Class 8 capability.
The truck can be de-rated to 25,999 lbs. if the customer desires, turning the pickup into a Class 5 vehicle that can be legally driven with a standard driver's license.
At 96 in., the cab is 44 in. longer than the standard cab in International's 4000, 7000, and 8000 series tractors so it has plenty of legroom.
The Big Red can be equipped with the same standard of luxury you might expect to find in high-end pickups, including keyless entry, power windows, excellent sound system, and air-brake buttons on the dash.
Chevrolet Kodiak: The C4500 is the entry-level unit in the Kodiak line of Chevy commercial trucks, with a starting GVWR of 16,000 lbs.
The C4500 comes standard with an Allison 1000 5-speed automatic transmission and 8.1-liter Vortec engine rated at 225 hp, with 350 ft.-lbs. at 1,200 rpm's or 325 hp and 450 ft.-lbs. at 2,800 rpm's. It's also available with a Duramax 6600 turbocharged diesel engine that comes with 210 or 300 hp ratings, both with 520 ft.-lbs. of torque. Either engine can be matched with a 6-speed manual transmission; pto drive is an option. A Caterpillar 3126E diesel engine is available for C6500 through C8500 models.
The pickup is more than 7 ft. 6 in. tall, with the first step 19 in. off the ground and the next step 35 in. off the ground, working up to a driver's seat cushion that's 52 in. off the ground - a foot higher than a dualie pickup. More clues about the pickup's size: It has three Group 31 batteries, the radiator holds 27 quarts of coolant, the pan 14.6 quarts of oil, and the fuel tank 40 gal.
The pickup features a new standard hydraulic four-wheel anti-lock disc brake system that provides a big reduction in stopping distances with lower pedal effort and quieter operation. It also has new body-mounted side mirrors that are larger than the old door-mounted mirrors.
The Kodiak is not available with 4-WD at this time, although it's under development.
Ford Super Duty F-650: The Super Duty F-650 is part of the biggest line of Super Duty F-Series pickups ever built. A F-750 model is also available.
The F-650 is available with 11 different cab and wheelbase combinations. (wheelbases stretch from 158 to 260 in.) The pickup has an aerodynamic, sloping hood design. Comes with a choice of three diesel engines -- a Cummins 205 hp engine with a choice of a 6 or 7-speed manual transmission; Cummins 225 hp engine with choice of 5-speed automatic or 6 or 7-speed manual transmission; and Power Stroke 7.3-liter 210 hp turbocharged engine with choice of 5 or 6-speed manual transmission.
The XLT Super Cab model is available with a Cummins 185 hp engine or Caterpillar 300 hp engine. It comes with 4-wheel anti-lock braking system and a new air brake reservoir package.
Dual 50-gal. fuel tanks are available. The F-650 featured was put together by North County Ford.