---
Check out our FREE Classified Ad sites!
Do-It-Yourself Foam Marker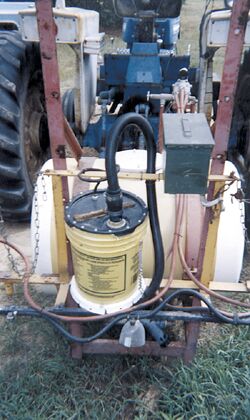 "I farm less than 100 acres, so I couldn't see myself spending money on a commercial foam marker for my sprayer. Instead, I took an idea I saw in FARM SHOW and adapted it to my own situation," says Lynn Stephenson of Angier, North Carolina.
The article that inspired him was about a mini foam marker made for a lawn sprayer. He has a sprayer with a 24-ft. boom, and decided to make one for that.
Stephenson made a small frame out of scrap metal and secured it to the back of his sprayer. This is what holds his 5-gal. soap mixture reservoir. He says the 5-gal. bucket's lid must be screwed down once the unit is built.
He then used styrofoam to line a surplus army ammo box to hold a small air compressor he had bought for at Wal-Mart. The styrofoam lessens the noise and vibration of the air compressor, which is run off the tractor's battery power.
A 3/8-in. rubber air hose runs from the compressor to the bucket. Stephenson says he made sure the air hose reached to the bottom of the bucket, and then inserted a 2 to 3-in. long plastic tube into the end of it. He closed off the end by heating and pinching it, then drilled about 30 small 1/64-in. holes.
Foam comes out of a long piece of flexible plastic tubing, which connects to the spout.
"The foam is just like what you'd get when blowing through a straw in milk as a child," Stephenson says.
Through trial and error, he found that it was necessary to place a baffle inside the bucket. This slows down the water movement and keeps it from sloshing up in the pail, disintegrating the foam in the hose.
He says it's necessary to leave 3 to 4 in. of air space in the reservoir, so it works best to use about 4 gal. of water and one cup of liquid dish washing detergent.
The path of foam markings is left down the center of each of Stephenson's sprayer passes, so he can visually judge the 12-ft. distance he needs to allow for the next pass.
To create bigger globs of foam that last longer, Stephenson cut off a two-litre plastic pop bottle and shoved the spout into the end of the flexible tubing, creating a funnel-like attachment. This causes the foam to collect there until a 4 or 5-in. glob has formed.