---
Check out our FREE Classified Ad sites!
Home-Built Track Utility Vehicle Goes Anywhere
FARM SHOW Magazine
» Home-Built Track Utility Vehicle Goes Anywhere
Home-Built Track Utility Vehicle Goes Anywhere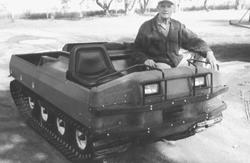 Martin Guenther's homemade hunting cart has gotten hung up, but not for long. Using a built-in winch, he has quickly pulled free. The 8 1/2-ft. long, 5-ft. wide, all steel body handle just about anything and go anywhere, thanks to its home-made tracks.
"I can take it more places than I can an ATV," says Guenther. "It gets up to 12 mph and will climb a 45 degree angle."
After years of thinking about making an all terrain hunting buggy, Guenther went to work on the project.
His first step was to have steel plate bent to form a one-ft. high, one-piece lower body, negating the need for a frame. Everything else was simply mounted to it.
Guenther pulled a 1.8-liter Subaru engine from an old car to power the machine. He installed a governor on the motor and mounted it behind the driver's seat. A new tandem hydraulic pump capable of producing up to 20 gpm was attached to the engine to power new hydraulic motors that were installed to run the tracks.
Guenther used conveyer belt and four 8 by 4-in. wheels to make the tracks. The conveyer belt has a 5-in. section in the middle with a 5-in. section to either side. He cut 14-in. long, 1-in. wide pieces of 12 ga. cold rolled steel for outside cleats and the same size 14-ga. steel for inside cleats. The cleats were formed into channels and bolted together to either side of the conveyer belt.
Guenther even made his own drive and tightener sprockets. He cut 12 steel, cog shaped plates and enough similarly shaped pieces of conveyer belt to make four 4-in. thick sprockets. Each sprocket has a steel plate on each side and in the center to keep the canvas cog rigid.
Drive sprockets mount directly to shafts from the hydraulic motors at the front of the tracks, while the tightener cogs are mounted at the rear on a cam attached to a hydraulic ram. To tighten the track, Guenther merely increases the hydraulic pressure as needed.
For the upper foot of the body, headlight panel and engine hood, he made molds and covered them with fiberglass.
"I bought tractor seats to mount ahead of the engine," says Guenther. "That left a cargo area behind the engine. Two levers, one for each side, control the drive motors, forward and reverse."
He has made very few changes to the cart since building it and sees little need to change it.
"I had a couple of flat tires when out hunting the first couple of years," he recalls. "I added foam to the tires, and that took care of the problem."