Self-Propelled Mini Manure Spreader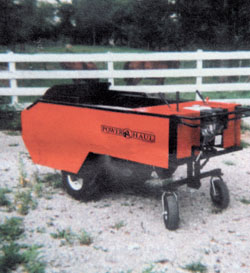 "I own one of these self-propelled walk-behind manure spreaders and it works great if you just have a couple horses or a few head of cattle," says Lyle Mast, Shipshewana, Ind., about his "Power Haul" spreader from Weaver Manufacturing, Goshen, Ind.
Powered by a 5 1/2 hp. Honda engine through a reduction gear, it'll haul and spread up to 15 bushels of manure at a time. It runs at variable speeds and has a reverse gear. The beaters are removable so you can use it as a power wagon. Overall length is 7 ft., 6 in., and it's 38 in. wide.
"It works great as long as you don't put too much hay or straw into it," Mast notes.