Leaf Blower Repowered With Harbor Freight Engine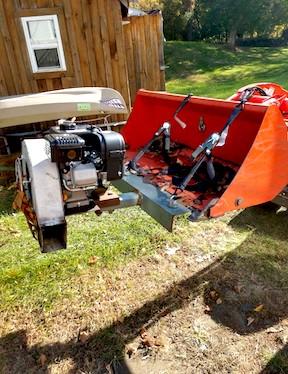 For $25, James Johnson got a blower that clears leaves off his driveway. While it was a good garage sale buy, the $100 Harbor Freight engine he added later made it a real bargain.
"When I first got it, I jury-rigged the blower with its old engine to the front mounted mower on my Gravely and later to a front-end loader on an IH Cub," says Johnson. "It wasn't the nicest looking, but it worked. However, it got expensive to maintain. I spent more time trying to get it running than using it each year."
He mounted the blower and engine to a flat piece of steel. To attach it to the Cub's bucket, he fabricated a mount using a 20-in., 1 1/2 by 4-in. length of channel iron. One end is bolted to the flat plate. The other end is welded perpendicular to a length of 1 1/2 by 4-in. angle iron that fits over the bucket edge, while the channel iron extends under the bucket. He hooked two ratchet straps to eye bolts on the angle iron and to the top edge of the loader bucket to secure the cantilevered blower mount in place.
When he traded in the Cub for a Kubota with a loader, he replaced the engine. After struggling with the old engine for about a dozen years, he hooked the blower to a 6 1/2-hp. engine from Harbor Freight.
"I've used it with the Harbor Freight engine for the past 3 years without a problem," says Johnson. "It starts on the first or second pull every year, and I clear the driveway. I could use it on leaves on the lawn too, but I don't worry about them. I only use it for about 3 hrs. a year, so I didn't want to put a lot of money into it. It works well just cleaning my long driveway."
Contact: FARM SHOW Followup, James Johnson, 1260 Washington St., Cortlandt Manor, N.Y. 10567 (ph 914-806-0269; jim9178@verizon.net).