Corn Header Reduces Shelling And Wear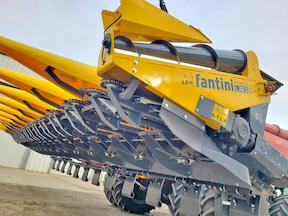 Fantini corn header choppers shut off fast. Make a quarter-turn on one bolt per gearbox, and the chopper is on or off.
"It only takes 5 to 10 min. for the entire header with just one wrench," says Lee Moran, Fantini North America. "A lot of corn header choppers have to be taken apart. Ours require less maintenance and run easier. They take less horsepower and less fuel."
Moran describes a field trial with a Fantini corn header and a competitive brand. "We ran a mile an hour faster," he says.
According to Moran, chopper shut-off is only one of the features that makes Fantini stand out. He points to the ability to adjust stripper plates for the stalk size from the cab. Another is reduced kernel loss.
"You won't see hardly any kernels in the auger," says Moran. "The chopper placement lets it chop the stalk as it comes through the corn header. The stalk is sucked to the top of the rolls without beating the kernels off the cob."
Kernel loss is also reduced due to the ability to time the corn header gearbox to the combine. Shelling occurs when over speeding slams the cob into the deck plate, and kernels drop through the row units.
"This is a feature other corn header makers don't offer," says Moran. "It greatly reduces shelling and excessive wear."
Timing the gearbox eliminates over speeding and butt shelling of the cob and the need for added brushes or other devices to retain kernels.
"Timing virtually eliminates the problem," says Moran.
Moran points to the 4-year warranty on gearboxes and drivelines as another unique feature of Fantini.
Fantini 8-row corn headers are priced at $114,900 with choppers. An adapter plate for use on a second combine make is available for $2,500. Fantini also makes headers for sunflowers and milo.
Contact: FARM SHOW Followup, Fantini North America, 15526 90th St. NE, Drayton, N.D. 58225 (ph 800-454-3875; fantinina@hamiltonsystemsinc.com; www.fantini-na.com).