He Builds Caskets From Church Pews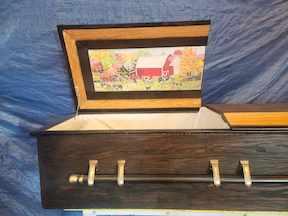 When Saint Joseph Church in Cresco, Iowa, decided to remodel and replace its pews in 2013, parishioner Edward Kruse offered to take 24 of them that hadn't been spoken for. Kruse says he couldn't bear the thought of the pews being banished to a woodpile and used for firewood, as some had suggested. He stored them in his barn and advertised them for sale but didn't have any takers.
"I was thinking about them day and night and finally had a vision about repurposing them into Saint Joseph Church Caskets," Kruse says. "The inspiration may have been a pair of canvas paintings that still hang on a wall over the side door exits at the church. One painting shows Saint Joseph working with Jesus in his carpenter's shop and Mary is weaving. The other shows Saint Joseph on his death bed, with Jesus and Mary holding his hands. In the Catholic church, Saint Joseph is venerated as 'the patron saint of a happy death' because Joseph died in the presence of Jesus and Mary."
His 24 pews contained enough wood for 16 caskets. First, he removed the pads and dismantled the pews, mindful to get rid of staples, tacks and screws, then sawed the pieces into lengths for "casket kits". After removing varnish from the wood, he sanded each piece down to its original red oak grain.
Kruse has assembled four caskets, with the first one used to bury his uncle Ray. He builds the lids to accommodate a religious painting or other remembrances such as a farm, rural scenery or photos.
Kruse says his caskets are made to burial-vault specifications. He stained the first four with Jacobean (black) and Colonial Maple (tan) wood stains. That combination gave them a striking two-tone color scheme. Attractive brackets, hinges and ornamental knobs complete the design.
"The 16th and final casket will be my own," Kruse says, "so I have 14 remaining to share with others." His caskets are priced at $1,600 and he'll deliver at no charge up to 50 miles from Cresco in Northeast Iowa.
Kruse has been promoting his Saint Joseph Caskets with an ad on the back cover of his parish's weekly bulletin and welcomes inquiries by mail.
Contact: FARM SHOW Followup, Edward Kruse, 21168 - 135th St., Cresco, Iowa 52136.