Homebuilt Lift Kept His Dad Combining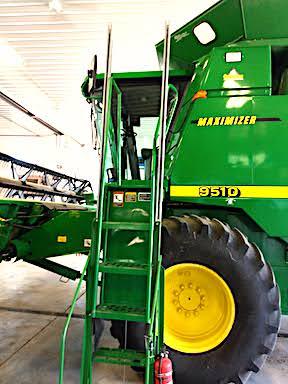 At 80, LaVon Johnson still enjoyed helping out at harvest time but it was difficult for him to climb the ladder of the combine. When his son, Tim Johnson, saw a YouTube video of a lift another farmer made, he contacted the designer, who sent him photos and provided information. Now, the Wausa, Neb., farmer wants to pass the details on to others.
"The lift rides in two tracks that are bolted to the side of the combine ladder," Johnson says. He bought the sliding door tracks at a home improvement store and purchased a 12-volt winch with a remote.
He built the platform and lift with expanded metal, angle iron, and scrap metal. He mounted the winch under the combine's top step and ran the wiring to the battery so the winch operates whether or not the combine is running.
"There was some trial and error. I cut the rails to length after I saw it was going to work. And with the platform I had to be careful to have clearance and not hit the tire," Johnson says.
Once the lift is up, the platform folds up out of the way and the ladder can still be used by drivers who don't need the lift.
Johnson moved the fire extinguisher that was on the ladder to the lift, which he painted green to match the tractor.
"Dad used it for a couple of years. It was fun to watch him ride up and down on it," Johnson says, noting his father died in 2020.
Johnson posted a video on Twitter (now available at www.farmshow.com) and a Wisconsin farmer, who also had an elderly father, purchased it for Johnson's cost of materials, about $500. He welcomes questions about the lift from readers.
"If I can help another older farmer keep running the combine, I'm more than happy to share information," he says.
Contact: FARM SHOW Followup, Tim Johnson, 55100 874 Rd., Wausa, Neb. 68786 (ph 402 640-4840; www.circlejfarms.myfreesites.net;
johndeereguy.tj@gmail.com).