Meet The Ripper - A New Kind Of ATV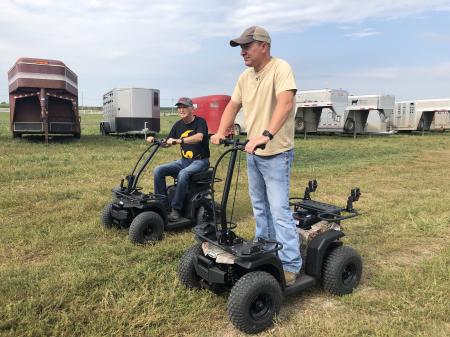 Brice Crawford has an alternative to conventional ATVís - a stand-on machine called the Ripper.

ďThe goal of the Ripper is to provide users with a vehicle that is as easy to use as a golf cart, as fun to ride as a stand-on Scooter, and as versatile as an ATV,Ē Crawford says, noting that itís small enough so that 3 Rippers will fit in a pickup bed.

With foldable handlebars, the Ripper is about 1/3 the width of an ATV and half as long. With front and rear racks itís handy for hauling hay bales and feed buckets and is narrow enough (30.2 in.) to drive through doors.

The Ripper weighs 212 lbs., has a 350-lb. weight capacity, and travels at speeds up to 13 mph. Powered by a Honda engine, a tank of gas lasts about 4 hrs. or 40 miles.

The base model is $3,495 and the electric start is $3,995. The seat option is $300 and a camo model adds on $250 to the standard red and black models. Crawford plans to have an all-electric machine next year and to offer a rack to hold the Ripper that will fit into a receiver hitch.
ďOur intention is to offer a pull-behind trailer for hauling deer,Ē he adds.

Response at shows this year has been good, and Crawford says people are coming up with new uses for it. For example, shooters can use it for checking long range targets and trap shooters can use it to haul shotguns and loads.

The Ripper can be ordered through the website; and Crawford is setting up dealerships.

Contact: FARM SHOW Followup, Brice Crawford, Ripper ATV, 4101 Lowell Circle, Lincoln, Neb. 68502 (ph 531 500-5900; www.ripperatv.com; info@rogue10.com).