"Tractor Pto Link" Makes Equipment Hookups Easy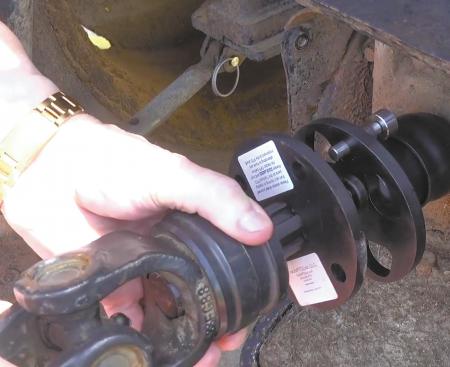 Anyone who has ever had trouble hooking up an implement's pto shaft to their tractor will be interested in this new "quick connect" system that makes the job easy.
The PTO LinkTM system replaces the typical 6-spline connection with a flat interlocking plate that comes in 2 pieces that can remain permanently mounted. The male piece locks onto the implement's shaft, and the female piece locks onto the tractor's shaft. The female piece comes with a set of oblong holes in it, which are larger on one end than the other. Corresponding 1/2-in. dia. steel studs protrude about 5/8 in from the male piece.
The operator aligns the 2 pieces and runs the studs through the holes, then rotates the male piece. It causes a spring-loaded shear pin on the female piece to automatically lock the 2 pieces together. To disengage the pieces, he just releases the shear pin.
"It turns what is normally a difficult and time consuming process into an easy task. Once the system is installed on each tractor and implement, it never has to be removed," says Steven Walter. "The direction of the pto always keeps the 2 plates locked together.
"We've had a problem with pto's on tractors for at least 50 years, and I don't know why no one has come up with something before. I hear the same thing every day with all of our customers."
Currently, the PTO Link system works with all 6-spline pto (540 rpm) tractors under 100 hp. However, Walter plans to soon introduce a 21-tooth spline version for larger tractors and implements.

A PTO Link dual system for one tractor and one implement sells for $349.98 plus S&H. A system for one tractor and 3 implements sells for $649.96. Free shipping on orders over $500.
Contact: FARM SHOW Followup, Tractor PTO Link, Steven Walter (ph 833 888- 5465; info@tractorptolink.com; www. tractorptolink.com).