Canopy Kits Designed For Shipping Containers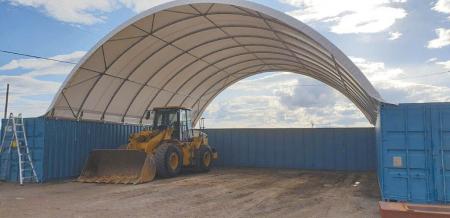 A California company says its canopy kit, designed to tie a pair of shipping containers together, creates a portable storage facility that's easy to put up and take down.
"It's an affordable option compared to steel buildings that require footings and slabs and are permanent. Because of their portability, in most cases permits aren't required," says Declan Howlett of Container Canopies.
As a shipping container reseller for more than 20 years, his network of dealers allows him to locate and deliver containers just about anywhere in the U.S. Hoops attach to a rail-mount system attached to the top of the containers. No welding is required. About half of the company's customers set up Container Canopies by themselves. The rest contract with the company's install crews.
"The canopy is made of heavy-duty woven fabric covered in pvc treated with a UV-inhibitor," Howlett says. "They are warrantied a minimum of 10 years but should last 15 to 20 years."
The 12-ga., 3-in. pipe, galvanized steel trusses are engineered for winds up to 105 mph. Container standard sizes are 20 or 40 ft. and readily available in most markets.
Cost for a 40 by 40-ft. canopy is $7,495 and a 26-ft. wide by 20-ft. long canopy is $2,995. Clearances from ground to peak are 22 ft. when using 40-ft. "Hi-Cube" containers, and almost 19 ft. for the 20-ft. standard height containers. In the future, Container Canopies plans to expand the available sizes with increased widths and clearances, as well as double-truss models engineered for snow and other rugged conditions, Howlett adds.
"They are most often used as portable work areas for farm maintenance and asset protection," he notes.
The containers are an additional cost, and can range from $2,500 to $3,500 depending on the location of the installation with higher prices farther inland. Howlett works with customers to find containers in their area.