Duck Foot Tine Boosts Harvest Speed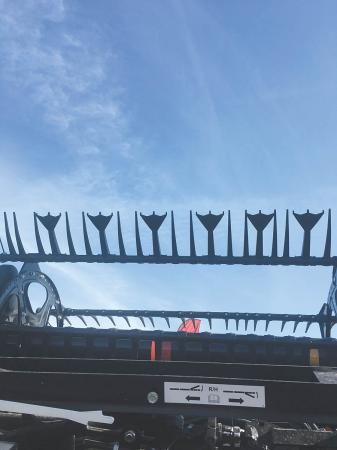 "The biggest thing with the Duck Foot is that it saves money and it's not time-consuming to put on," says Steve Kastning of the slip-on paddle tine that he designed and sells. "You gain ground speed to help get the crop off in a timely manner."
He came up with the design after frustrating years of harvesting lentil crops. Ideas like putting belting or duct tape over the header tines didn't help much to allow the crop to clear the cutter bar and prevent stripping and shelling. He experimented with white plastic creating shapes to slip over the tines and attach to the reel pipe.
Kastning worked with an engineer to create a CAD drawing for a 3D printer to finetune the design before having a mold made. He tested the Duck Foot for a few years on his own farm before he put it out to the public in late 2017. It attracted interest from an Australian farmer who's also a MacDon dealer, and it debuted in 2018 at Canada's Farm Progress show where Duck Foot won a Sterling Innovations award.
The Duck Foot is molded from the same durable, high-UV rated plastic that MacDon tines are made of. Duck Foot slips over the existing tine and is secured with quality (120 lb. tensile strength) cable ties. "I can put them on a 45-ft. header in about 25 minutes by myself on every other tine. And I can pop them off even quicker," Kastning says.
"Duck Foot works in every type of crop, with a big advantage in lentils and beans, but also straight cut canola and small grains," he adds. "Customers with thin crops really love them. The standard tine is small and misses a lot of the crop, which gives you cutter bar loss. The Duck Foot tines also work well for hay."