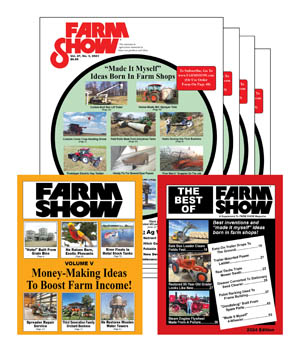 FREE CLASSIFIED ADS
Sponsored by FARM SHOW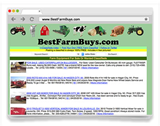 ---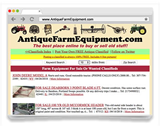 Steel Hoop Firewood Storage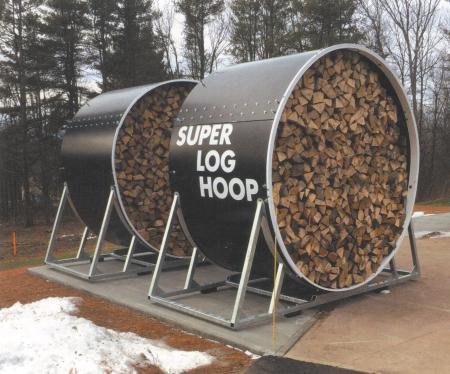 Bill Smith's Super Log Hoops keep his firewood high and dry. Each round, steel band holds about a cord and a half. He makes the 8-ft. dia., 5-ft. deep hoops out of three 9 by 5-ft. sheets of Alucobond, an aluminum composite material.
"I first made 4-ft. hoops using steel reinforcing rod for a hoop frame and covering it with sheets of the Alucobond," says Smith of Delanson, N.Y. "I had them in front of my shop, and people would stop and ask to buy them."
After building and then selling 8 of them, Smith was intrigued that there might be a market for his hoops. He decided to upgrade the design. He went with a frame-free look by having the Alucobond sheets rolled into a 4-ft. radius.
Smith overlapped the ends of the rolled sheets by 6 in. before drilling and bolting them together with twenty-two 3/8-in. bolts. The hoops sit in cradles fabricated from 3/16-in. thick 2 by 2-in. square steel tubing.
"Getting the cradle frame welded, dipped and galvanized was the second most expensive part of making the hoops," says Smith. "The Alucobond material alone came to $1,100.
"Alucobond is weather resistant and UV protected," says Smith. "It has a 1/4-in. thick poly core with a thin film of aluminum laminated to each side. It is very durable and should last more than 50 years. You could stand on it or walk on it, and it wouldn't bend much."
Smith estimates having used around 100 sheets of the composite material over the years. "I've covered the walls on my shop, as well as using them for the hoops," he says. "They are easy to clean. Just pressure wash them."
Initially, Smith planned to market the very attractive hoops for use at camps and businesses. However, he estimates he would need to ask at least $2,000 per hoop for materials, labor and tax.
"I felt that was too much to ask, so I kept them for my own use," says Smith. "I like having them sit in front of my shop. They make interesting firewood storage."