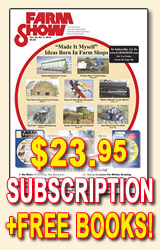 FREE CLASSIFIED ADS
Sponsored by FARM SHOW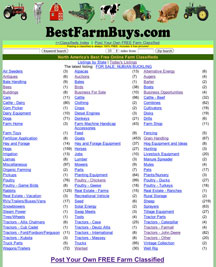 ---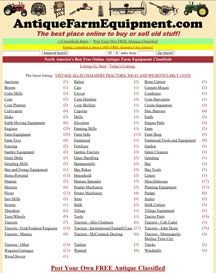 Deck Makes Apple Picking Accessible To All
FARM SHOW Magazine
» Deck Makes Apple Picking Accessible To All
Deck Makes Apple Picking Accessible To All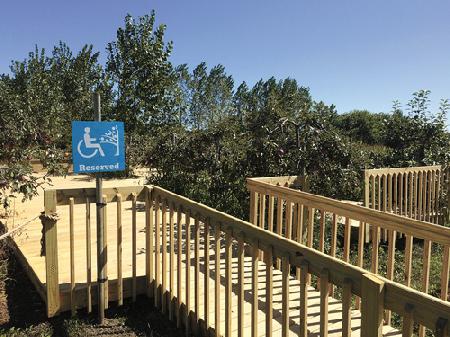 Since building an apple-picking deck around trees in their orchard, Jim and Laura Leffel hope they will inspire other growers to make orchards more accessible to everyone.
"I never expected it to be as popular as it is," Laura says, crediting Jim for having the idea.
The H-shaped, 42-ft. long by 24-ft. wide green treat deck wraps around 18 Cortland apple trees and is high enough for perfect apple picking for people sitting in wheelchairs. A railing on the open side, a raised box filled with pumpkins on another side, and a 2 by 2 lip around the rest of the deck next to the trees are safety features based on advice from the University of Wisconsin-Eau Claire student disabilities office.
"We are both ex-military, and we want to do good things for the community," Jim explains.
Open for the first time this fall, the new deck has been busy with individual pickers as well as groups from assisted living, nursing homes, special education classes, and others.
Besides people in wheelchairs, the deck accommodates people with limited mobility who can't access the 2,500 trees in the U-pick orchard. Some people are just happy to pick one apple. Others fill quarter or half-peck bags to purchase.
"There is such a need for outdoor activities. Caregivers are always looking for something to do," Laura says. ?It seems everyone has enjoyed coming out."
"We have a sign that says ring the bell if you like picking apples," Jim adds. "The bell is rung all the time."
The visitors in wheelchairs can also shoot apples with a big slingshot at targets and enjoy pie, coffee and cider from the orchard?s store.
Next year, the couple plans to grow pumpkins near the deck so that visitors can pick their own pumpkins.
Caring and maintaining the trees around the deck is more challenging, Jim notes, but on a small scale it is manageable. The rewards are worth it.
"We are just really happy to offer this," Laura says. "There seems to be a need."