---
Check out our FREE Classified Ad sites!
They Grow Veggies Of Many Colors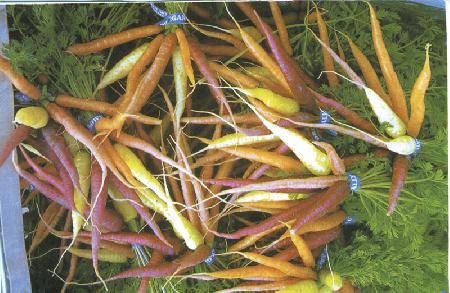 A photo of "rainbow carrots" caught our eye in a recent ad for a company called Seeds By Design. The Maxwell, Calif., seed company wholesales seed to other garden seed companies.
Patty Buskirk is the owner and seed breeder behind the 23-year-old company. Independent growers she works with grow many of those red, white, yellow, purple and almost black carrots we find in our favorite catalogs.
"Our Carrot Rainbow Blend is one of our top sellers," Buskirk says. But the colors are not new. They are heirlooms that were grown in Europe before gardeners decided carrots should be orange.
"With the different colors, come different health benefits. Some are better cooked rather than eaten fresh and vice versa,"
Buskirk says. "The purple with a yellow center is incredible eaten raw." Besides reviving heirloom varieties on 5 to 19 acres of trials each year, Buskirk and her team develop hybrid heirloom varieties with disease resistance and other desirable traits. For example, Seeds By Design contracts with California growers to grow a series of tomatoes in different colors (orange, pink, green, yellow, white).
The company also has peppers and kale in various colors " all because of interest and demand from gardeners, Buskirk says.
"We have whole collections for niche markets," she says. Beyond colorful vegetables, Seeds By Design supplies seed for unique salad greens, unusual eggplants, and sweet, seedless watermelons, for example. Altogether they offer 3,000 varieties of seed from 1,200 acres of vegetables grown each year.
Many of the varieties, such as Chef's Choice Orange tomato and Black Olive Ornamental Pepper, have been selected as All-America Selection winners.