Gas-Powered Wheelchair Conversion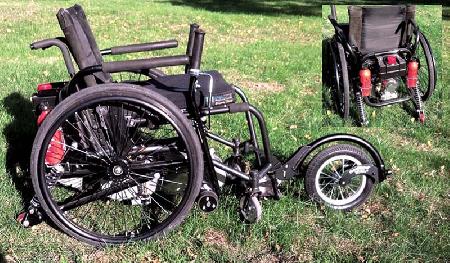 Put a motorcycle engine on a wheelchair and it'll be equally at home on city pavement or driving on a country lane, says Paul Scholand, Ypsilanti, Mich. He built 2 gas-powered wheelchairs that are powered by 110 cc motorcycle engines with automatic transmissions and electric start.

"A gas-powered wheelchair can take you places you might otherwise not be able to go. I'd like to make them available to vets," says Scholand.

He used kits from www.motivechair.com that are designed to attach motors to wheelchairs. The kit includes everything you need except the wheelchair, engine, and starter battery. No modification to the wheelchair is necessary. It comes with a 2-qt. gas tank.

The engine mounts on a subframe below and behind the wheelchair's seat. The subframe clamps in 4 places to the wheelchair frame. The engine chain-drives an axle fitted with 2 friction wheels, which rub against the wheelchair's wheels. The kit comes with levers that are used to brake and steer.

"The wheelchair steers and brakes much like a skid loader," says Scholand, who installed a pair of wheelie bars on back to keep the wheelchair from tipping over backward.

"It's a self-starting, self-shifting engine so you don't have to work the clutch or shift any linkage. There's just a throttle and a kill button which makes it easy to use," says Scholand. "I went with gas power instead of batteries because the battery-powered systems I've seen don't provide the same speed, range, and off-road capability. They cost more, too.

"The engine comes with a carburetor restrictor plate to limit its maximum power. You can drive up to 20 miles on a single tank of fuel. Top speed is 15 mph.

"You can remove the engine in 5 min. and use the wheelchair conventionally," says Scholand.

He later added a FreeWheel caster wheel system that turned the Invacare A4 wheelchair into a 3-wheeler for off-road use (www.gofreewheel.com). He also reinforced the wheelchair's foot platform supports to take the twisting force off the large third wheel.

"With the FreeWheel installed, your wheelchair caster wheels can roll right over any obstacle including curbs, and go on dirt trails, grass, gravel, snow, and sand," says Scholand.

"I'd be glad to help anyone who wants to build their own gas-powered wheelchair. ˇI can also train you on how to use it, as there is something of a learning curve," notes Scholand, who?s selling the larger Invacare wheelchair for $3,000 and a smaller Quickie GTI powered chair for $1,400.

Contact: FARM SHOW Followup, Paul Scholand, 960 East Clark Road, Ypsilanti, Mich. 48198 (ph 248 890-7226; paulscholand@yahoo.com).