Shop-Built Turner Makes Composting Easy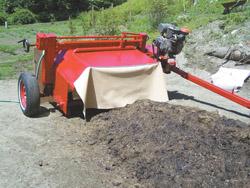 Building a compost turner combined two of Russell Wing's favorite hobbies – do-it-yourself projects in his shop and making good compost for his many gardens.

"I've been composting for nearly 35 years, and I got sick of turning it by hand," says the former dairy farmer turned pastor of a small church in Lisbon, N.H.

The project, which took three "springs of work", turned out perfectly and only cost $259 using scrap metal and parts Wing had stockpiled over the years.

He started with the "landing gear" from an old storage trailer that's used to raise and lower the beater bar, which he welded out of 5-in. long, 1/4-in. scrap steel spiraling on 3-in. Schedule 8 pipe on a 1 1/4-in. rod. He powered it with an old AEH Wisconsin engine from a cement mixer and hung belting on the front and back to keep the churning compost contained.

"A slip belt is an effective but crude transmission, and I machined an idler with a couple of bearings pressed into the ends. I wired the tractor with a double-pole, double-throw toggle switch and installed a 12-volt linear actuator to engage the idler and slip belt from the tractor seat," he explains. "It spins very fast. It has gear reduction on the engine, but the pulley on the engine is the same size as on the beater bar."

Wing also added a 1 1/2-in. water injection manifold using pvc pipes to spray water through holes in the pipe into the compost. He hooks up a garden hose to add the water as he turns the windrows.

"I have it figured out so that the hose doesn't kink," he says, noting he only adds water when needed to keep the compost damp-sponge moist.

"Turning the compost every three days is just about right to let the bacteria do its thing. You need nitrogen to feed on the carbon particles (dried leaves, straw, sawdust) and to get the temperature to 160 degrees to kill the weed seeds," he says. "I'm able to finish compost in about 16 days because I tend to it."

Wing always has 2 or 3 windrows (3 ft. high, 5 ft. wide) in process. One is to add new scraps to and the other is being finished off. In the fall, he gathers and stockpiles leaves.

"I like the way the compost turner blends all materials. I can put long, stringy squash vines and whole tomato plants on top of the pile and this will shred them," Wing says, noting he does chop cornstalks up before adding them to the pile.

He adds that he's working on another compost turner, this time converting an old Kuhn mower conditioner that will run off a PTO shaft.

With neighbors contributing scraps and leaves he feels blessed to spread the message of composting.

And, he admits, these days he prefers making compost to gardening, thanks to his shop-built compost turner.