Bales Make Better Maze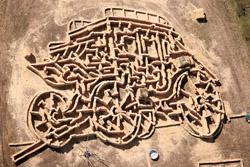 Repeat visitors to the Bozeman Maze are likely to find a different path every time they show up. Constructed with 3,500 big and little wheat straw bales, maze master Dale Mandeville changes the 4 to 6-ft. tall walls mid season.

"I can swing a few walls around and in 2 or 3 hrs. completely change the path of the maze," he says. "Doing that every couple weeks keeps people coming back."

Mandeville's mazes have proven popular since he built his first one in 1998. Each year the size and complexity have grown and so have the number of visitors. In recent years he has hosted between 6,000 and 7,000 visitors over a 4-week season. This year he expanded the season to 6 weeks.

For Mandeville, the bale maze has several advantages over corn mazes, besides the ability to change the design. "Corn mazes take up a lot of space," he says. "We have a few acres on the edge of Bozeman, Mont., with room for the maze, parking and more. The straw is local with little value, and the bales lend themselves to complex designs."

Mandeville's first maze consisted of 500 small square bales and 60 large round ones that he baled on his grandfather's farm. The next year the number of bales had tripled, and the design was more complex.

With the exception of a few years when he was starting a family and an engineering career, Mandeville has done one ever since, each bigger and more complex than before. He does the design and lays it out with large bales and the initial layer of small bales. As they became more complex a problem developed moving bales into the middle of the design.

"By 2008 we were using 2,500 bales, and my dad came up with the idea of sliding them into the middle on 2 by 12's," recalls Mandeville. "Now we have a crew of 10 to 12 people who work 4 hrs. a day for 3 days. They put up all the second, third and fourth layers of small bales. We have a quad-copter with a camera that we use to see how we are coming."

In 2011, a fire broke out just ahead of the final weekend. Mandeville used a tractor and loader to create a firebreak around the burning bales as the fire department contained it. He lost about half the bales, but with the help of friends, rebuilt it and was open for business 30 hrs. later.

The uniqueness of the bale maze, the complexity of the design and rebuilding immediately after the fire has given Mandeville consistent media attention and promotion. He has also added attractions over the years, including cotton candy, popcorn concessions, a mini train, bungee trampoline and a corn bin (straw bale walls) for kids to play in. However, it's the maze with 4 check points people have to find that that keep them coming back. Mandeville warns that a maze shouldn't be too complex.

"Most people spend 20 to 40 min. finding their way through the maze," he says. "However, we've had people in there for an hour or more. Now we have a tower with a guide who can help people who get stuck or need to get out quickly."

Mandeville charges $7 admission with extra charges for some attractions.