He Turned His Riding Mower Into A Giant "Weed Eater"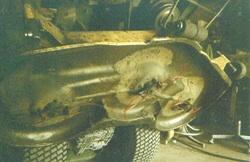 When LaVier Schliefert has to mow rocky ground, he converts his riding mower into a giant "weed eater" by replacing the blades with heavy-duty weed eater strings.

Homemade metal adapters bolt to the original blade mounts. Each is fitted with 2 strings.

Schliefert came up with the idea after breaking numerous blades and bearings on the rocks.

"I often use my Deere 345 mower with 56-in. deck to mow rocky areas for neighbors. The weed eater strings go right over rocks without a problem. When I want to mow grass again I remove the adapters and bolt the blades back on."

He used parts of old lawn mower blades to make the adapters, welding on a circular metal ring and drilling pairs of holes through it for the strings to go through. He crimped a small piece of copper tubing onto the center of each line to keep it from pulling all the way through.
"I used 16-in. long plastic strings, the same ones found on DR's 2-wheeled weed eaters. Walmart sells similar strings so replacing the strings won't be a problem," says Schliefert. "The strings can't be used on heavy grass but they work great on small weeds up to 8 in. tall. If part of a string breaks off I just pull it out and put another one in."

Schliefert also made a free-swinging "weed eater" cutterhead that mounts on one side of the mower deck, allowing him to trim along fences, buildings and trees. The weed eater runs off the tractor's 12-volt battery. "I flip a toggle switch mounted on the tractor's console to operate it," says Schliefert.

He used the head off a Black & Decker cordless handheld weed eater. The handle had been accidentally run over. It bolts to a hinged metal bracket that's attached to the deck and is free to pivot up or down. "When I need to use the weed eater I just reach down and grab an L-shaped metal rod that's attached to it. An overcenter spring holds the weed eater down until I'm ready to use it," says Schliefert.

He converted a Yardman VS5 2-wheeled, push-type leaf blower to mount on front of the riding mower. "I call it my riding leaf blower. I use it in the fall to blow leaves off to the side. Saves a lot of walking," says Schliefert.

A small gas engine powers the leaf blower. He removed the handle and vac cleaner bag from it and mounted a caster wheel on front. He also mounted angle iron brackets bolt on back that U-bolt onto the tractor.

"When I'm done using the leaf blower I pick up the front end and adjust the metal rod that attaches to the mounting bracket," says Schliefert.