Spiked Collars Give Guard Dogs An Edge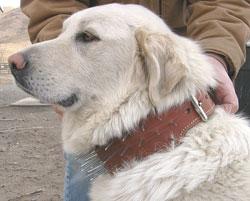 Livestock guard dogs that have to fight off coyote packs and wolves have a better chance of surviving if fitted with a $45 collar spiked with roofing nails.

"A collar gives a dog a chance to fight off a first or even a second attack while waiting for other dogs to join the fight," explains Kate Howe, co-owner, Coban Collars.

Howe and her husband Bill, owners of 246 Ranch Saddlery, make spiked collars for their own dogs and others.

"There has been a proliferation of predators in recent years. There are way more 'eaters' out there than there used to be," says Howe.
She credits the spread of hybrid Canadian wolves as driving demand. She says the 180-lb. killing machines are much bigger than native wolves and coyotes. Sheep producer friends in Turkey and Spain use spiked collars on all guard dogs and recommended them.

"We run a few sheep and have a small coyote issue, but with the spread of the hybrid wolves, our dogs just don't have enough protection any more," says Howe.

The Coban spiked collars are an attempt to give them quality added protection. The Howes use only the finest saddle leather, heavy-duty saddle buckles and rings for the rest of the collar. Hardware is riveted on and then stitched for extra strength. Collars are also equipped with bells, with both bells and spikes secured with washers so they won't pull out of the leather in regular use. They have even developed a special "Tag Tuck" design.

"We use a welded steel loop that allows the collar tag end to be tucked under the collar," explains Howe. "This puts the tag out of the reach of the predator and keeps the tag from interfering with the spikes on the collar."

Each collar is personalized for the dog that will wear it. Short hair dogs get collars lined with sheepskin, while heavy-coated dogs get smooth leather. Cost is $45 plus S&H.

"We need to know neck size, breed of dog, long or short hair, and the age of the dog," says Howe. "Our collars only have about 3 in. of tag, and if you order one when a dog is young, he can outgrow it in a year or two."

While Howe has confidence in their collars, she warns that they won't turn a house dog into a guard dog. By itself, it may not even be enough to protect a trained guard dog from a large hybrid wolf or even a pack of coyotes.