Deere's Revolutionary Electric Tractor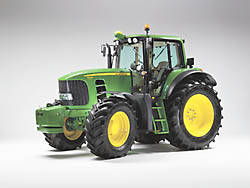 Deere made a big splash at Agritechnica with a new tractor that might be the start of a new trend in electric-powered farm equipment. The 7030E Series tractors have a built-in power generator that makes both 400-volt, 3-phase power and 230-volt DC power on-the-go. The tractor raises the question, "Is this the end of hydraulics and pto's?"
Klaus Hahn, engineer at the John Deere Works in Mannheim, Germany says the new tractor is definitely the start of something big. "It was a chicken or egg thing," he told FARM SHOW. "Implement manufacturers wouldn't develop electric-powered equipment without a tractor that could produce it. And no one would make electric-powered equipment without a tractor to power them."
The tractor has a new type of flywheel with a built-in generator that integrates the generation of electricity with normal operation.
An all-electric twin-disc fertilizer spreader is the first implement designed to take advantage of the new tractor's capabilities. It uses the three-phase power to drive spreader motors, while 12 V power drives the agitators and two electric actuators.
The spreader offers a clear example of the benefits of electric drives. Drive speeds are controlled independently of tractor ground speed or rpm. Speeds are easy to adjust and hold constant. Spinner discs can be shut down more quickly, thanks to the electrical braking of disc motors. The system is also easy to connect; simply plug a cable from the implement into the tractor's rear outlet and spread. No need to mess with hydraulics.
"Electric motor drives can be more efficient than mechanical or hydraulic-powered drives," says Hahn. "They are not affected by the temperature and, in the case of DC motors, offer infinitely variable speed control. They also eliminate the need for hydraulic hoses and pto shafts."
The tractors themselves also take advantage of available electric power. Heating and air conditioning in the cab, lights, seat heater and an on-board air compressor run on the independent electric power system so they always have full power regardless of engine rpm's. Another energy-saving benefit is the independently-powered fan for the tractor's engine cooling system. The fan can also be reversed to clean dust and debris from the tractor grille.
In addition, the tractor also offers AC outlets to power hand tools and other equipment simply by plugging them into a panel on the side of the tractor.
Hahn says two models with 200 and 211 hp will enter production in 2008 in Europe. Both tractors still have full hydraulics and pto's. North American introduction will depend on what happens in Europe.
Now that the new tractor is ready for market, Hahn expects to see new equipment emerge. "We will see the number of uses grow," he says. "You can drive anything with electricity that you can drive with hydraulics or pto power."