Unloading Auger Extender Kit For Combines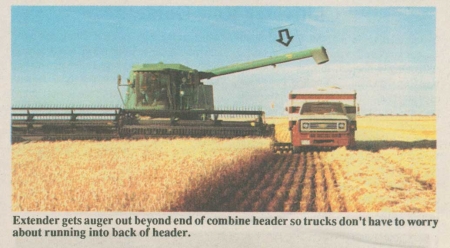 You can add 3 to 6 ft. to the length of combine unloading augers with simple new bolt-in-place "extender" kits.
Developed by M&R Machines Ltd., Weyburn, Sask., the design of each do-it-yourself kit depends on make of combine, but each includes a bolt-on extender tube, an extra section of auger flighting, and an add-on support rod that helps support the extra weight and length of modified auger.
"With headers getting bigger, it's gotten trickier to unload. Our extenders get the auger out beyond the end of the header so trucks can get right up alongside the combine without worrying about running into the back of the header," says Heather Crosson of M&R Machines.
For Case-IH rotaries, you have a choice of either a 3 or 4-ft. extension. You just unbolt one of the flange joints along the auger and bolt the extender in place. No cutting or welding required. On Massey combines you can also simply bolt a 4-ft. extender in place with no cutting or welding. On Deere combines, or 6-ft. extensions are available. To install, you have to cut the auger tube and then install the extender tube by tack welding it in place, and then wrapping a clamp-type sleeve around the extender to hold it in place.
Gleaner N & R Series combines are extended 4 ft. by replacing original 12-ft. long factory auger tube with 16-ft. tube and auger extension. Prices for extender kits vary depending on make of combine and length of extender.