---
Check out our FREE Classified Ad sites!
Rubber Tracks For Tractors, Combines
FARM SHOW Magazine
» Rubber Tracks For Tractors, Combines
Rubber Tracks For Tractors, Combines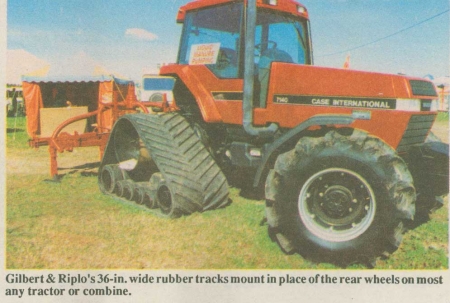 The latest new rubber track system for tractors and combines comes from Gilbert & Riplo, a long-time leading manufacturer of add-on steel half-tracks.
The 36-in. wide rubber tracks mount in place of the rear wheels and use a "positive cog drive" system which means lugs built into the underside of the belt match up with cogs on a 3-ft. dia. drive sprocket that bolts onto the axle. The new tracks were tested last spring by L & M Industries, Black Creek, Wis., which mounted them on a Case-IH 7140 front wheel assist tractor that was used to pull a 3-pt. liquid manure injector for custom application work.
"We used it for over 200 hours in extremely wet soil conditions without getting stuck even once," says Noel Marcks, of L & M. "We went into fields far too muddy for a tractor equipped with conventional rear tires. Soil compaction is minimal because each track applies the same amount of ground pressure as six rear tractor tires. Even in the wettest conditions the tracks never went more than 6 in. deep.
"The problem with conventional rubber tracks found on the Caterpillar Challenger tractor or Case-IH's prototype tracked tractor is that they rely on friction drive, with a smooth belt riding over a smooth drive sprocket. Mud that gets between the track and drive sprocket can cause the tracks to slip. Gilbert & Riplo's cog drive system is similar to the drive system on snowmobile tracks. It eliminates slippage and is self-cleaning. Mud that goes through the cogs on the drive sprocket is pushed out the inside part of the wheel. The rubber tracks should last about 2 1/2 times as long as conventional tires.

"The drive sprocket on the tracks is only half as big as the drive sprocket on the front wheel assist so the tracks turn only half as fast as the front wheels. That reduces the tractor's speed by 50% when the front wheel drive is engaged. We left the front wheel assist disengaged most of the time. We plan to install a different ring and pinion gear on the front axle or mount a gearbox in the driveline to slow the front wheels dawn to match the speed of the tracks."