Tag-Along Scale Weighs Bales "On The Go"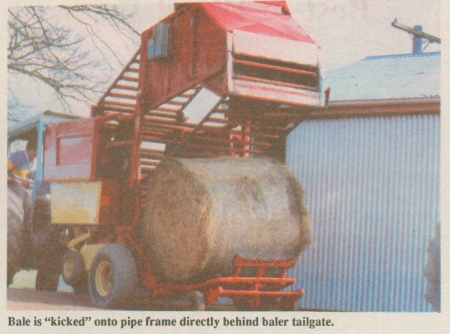 Australian farmer-inventor Bruce Reynolds thinks his new tag-along bale scale for big round balers will become standard equipment because, he says, it lets you keep track of how your baler is performing.
Weighing bales "on the go" lets you know if bales are too heavy or too light -- which might indicate a problem with the machine -- and also lets you know how much hay a particular pasture is producing.
"If bales are too light, they may 'sag' and water infiltration will be higher resulting in lower quality hay. If bales are two heavy, they may be too compacted and spoilage will occur. This scale is the only practical way to monitor baler performance as you go,"'says Reynolds.
His spring-loaded weigher is made out of steel tubing and rides on two small wheels directly behind the baler tailgate. There's an upside down leaf spring at the front of the platform that "kicks" the bale backwards onto a pipe frame. An H-beam load cell attaches to the pipe frame. It weighs the bale and sends the weight to a monitor on the tractor. A hydraulic cylinder tips the bale onto the ground after it's weighed.
A pair of air shocks are used to adjust the height of the scale platform up and down to adapt to different size balers. The shocks also allow the 2-wheel weigher to roll smoothly over uneven ground.
The weigh monitor on the tractor keeps a running total and will also keep separate totals on different fields so field performance can be rated. Reynolds says one advantage of the system is that he can now sell bales based on total tonnage rather than on a per bale basis. He's negotiating with a baler manufacturer to produce the scale.