---
Check out our FREE Classified Ad sites!
New Insulation Made Out Of Texas Cotton
FARM SHOW Magazine
» New Insulation Made Out Of Texas Cotton
New Insulation Made Out Of Texas Cotton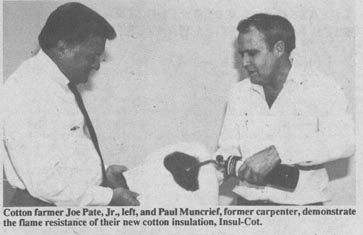 Texas cotton farmer Joe Pate, Jr., says a new kind of insulation he and his carpenter partner Paul Muncrief developed has the potential to become a major alternative to common fiberglass insulation.
"Our insulation is so safe, you can rub your face in it," says Pate. Called Insul-Cot, it's made of 80% low-grade cotton and 20% polyester fibers. Unlike fiberglass, cotton insulation requires no protective clothing nor breathing devices during handling, yet it has the same R-value per inch as fiber-glass and will be priced the same.
The new product has passed all federal tests for insulation, including fire and moisture resistance. It will be available in batts and blankets for buildings, either faced with paper or unfaced, in traditional thicknesses: 3-1/2-in. (R-11), 6-in. (R-19) and 8 l/2-in. (R-30). Blow-in insulation is not yet available.
Poly fibers are blended into the insulation during manufacture. "It gives the cotton a recoil factor so that after storage and shipping it will regain its original shape. Then we add a non-carcinogenic flame retardant during manufacturing. The resulting insulation is up to 30% lighter than fiberglass, and also requires less energy to manufacture."
The new product has other applications, including non-woven horse blankets, heating and air-conditioning filters, insulation for appliances such as kitchen ovens and refrigerators, as well as insulation used in automotive and aircraft industries. Also high on the priority list is using the material to develop a wind barrier house-wrap and an oil-absorbent product.
The company has invested a million dollars in its start-up phase to renovate a former textile mill in Post which closed several years ago. "Our plant is now able to process 12,000 bales of cotton a year with our single production line," Pate says, "and we have room enough for six lines as product demand increases. If we gain a significant share of the insulation market, we could be using as much as 500,000 bales a year within 10 years." The company is currently negotiating with both large and small insulation marketers who are considering adding Insul-Cot to their product line.