---
Check out our FREE Classified Ad sites!
Old Tire Mineral Feeder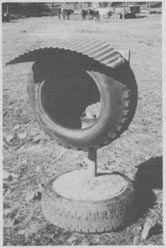 You'll like this dandy mineral feeder designed and built by Arkansas rancher Larry Zenz who also uses the feeder to provide salt to cattle.
Zenz says using tires makes the feeder more durable than most feeders on the market. To build it he filled the bottom tire with concrete, sticking a 1 1/2-in. dia. galvanized pipe down into the center of it. Then he bolted a piece of plywood to the back side of an extra-wide pickup tire and attached it to the galvanized pipe with U-bolts so height can be easily adjusted. Two 8-in. long 2 by 6-in. spacers are fitted to either side of the tire to spread it out for easy access. A piece of tin is bolted to the top of the tire to keep rain out.