"Truck-Tor" Is 1/2 Tractor, 1/2 Truck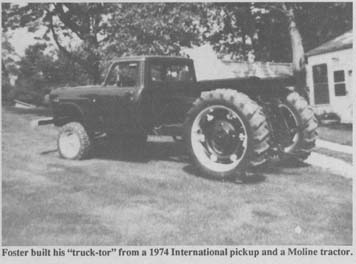 Darrel Foster's 4-WD "truck-tor" looks like any other pickup from the front. But walk to the rear end and you'll see that the back half is a tractor.
"It gets lots of attention wherever I go," says Foster, of Springfield, Ohio, who built his "truck-tor" from a 1974 International 3/4-ton 4-WD pickup and an old Minneapolis Moline 302 tractor.
The "truck-tor" is equipped with a 3-pt. hitch, hydraulics, and reversible pto. Foster controls all tractor functions from inside the pickup cab by means of rods connected to the tractor rear end's brakes, pto, high-low transmission, gear shift lever, and hydraulic levers. There are four transmissions -- two in the pickup and two in the tractor. The combination of the pickup and tractor trans-missions provides 36 forward gears and 16 reverse gears.
Foster says his "truck-tor" could be used for pulling wagons, raking hay, spreading fertilizer, hauling manure, and would work great as a pto-powered ditching machine because it can run very slow. "It's at least equal to a 100 hp tractor and was a big hit at our local Steam Thresher's reunion. I've even entered it in tractor pulling contests where it did very well. I put the tractor transmission in neutral and the truck trans-mission in gear to operate the pto and hydraulics. By shifting the pickup into 4-WD and leaving the rear end in neutral, the pickup pulls the tractor. This lets me travel up to 40 mph smoothly down the road."
The pickup had been damaged previously in a rollover accident so Foster replaced the cab and bolted on a new front bumper removed from a cement truck. He cut off the pickup frame just ahead of the rear wheels. Then he took the tractor apart by splitting it right in front of the transmission. The tractor axle is positioned about where the pickup's rear axle used to be. He made a driveshaft to connect the truck and tractor transmissions together. Then he raised the pickup 8 in. so the two transmissions would line up.
"If I could do it over I'd use a 1 1/2-ton truck with a higher frame so I wouldn't have to raise the pickup," says Foster, who adds that he plans to install a hitch in front of his truck-tor to move machinery.