"Rake Trolley" For Wheel Rakes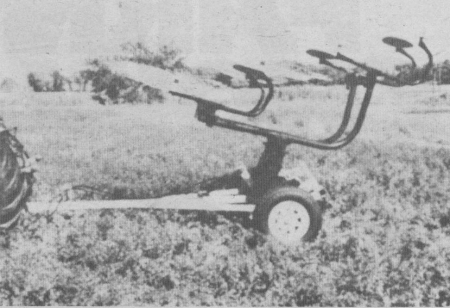 You can fold and unfold up to 12 wheel rakes hydraulically right from the tractor seat, thanks to the new Rake Trolley from Centaur International.
Designed to accommodate all makes of fingerwheel rakes, it converts 8, 10 or 12-wheel V-rakes to pull type, eliminating the hassle of physically having to pivot the rake from raking to transport position. One double-acting cylinder folds the rig from raking to transport position and vice versa.
It's available in a toolbar model, and a trailer model which easily transports behind a pickup. Follows ground contours and corners gradually because it isn't directly hitched to tractor's 3 pt. hitch. Rakes are well balanced on trolley.