---
Check out our FREE Classified Ad sites!
High-Lift Mini Loader Fits Garden Tractor
FARM SHOW Magazine
» High-Lift Mini Loader Fits Garden Tractor
High-Lift Mini Loader Fits Garden Tractor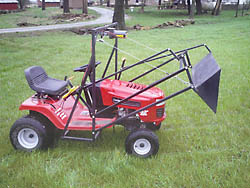 Moving landscaping materials around is a much easier job for Larry Walton ever since he built a front-end loader for his Murray 15 hp riding mower.
The loader bucket can be raised up to 50 in. high and dumped.
"I built it because I couldn't find anything on the market that would lift high enough," says Walton. "It comes in handy for a variety of jobs that would otherwise have to be performed by a large tractor."
The loader is operated by a 12-volt electric winch that hooks up directly to the tractor battery. The winch is used to do both the lifting and the dumping and has a lift capacity of up to 90 lbs. The bucket measures 42 in. wide, 12 in. deep, and 12 in. high.
A pair of levers or a 2-button control box are used to operate the lift and the power dump simultaneously.
The loader frame is made from 1-in. sq. tubing and attaches to the tractor's frame with four bolts. A mast extends over the tractor hood and supports the winch. The winch is connected to a pair of cables, one on each side of the mast, that ride over pulleys and down to the back side of the bucket.
A pair of handles are used to operate the bucket -- one to dump it and the other to relatch it. A control box located next to the steering column is used to operate the winch to raise or lower the loader.
"It's a universal setup that bolts onto any type of riding mower or garden tractor," says Walton, who also built a loader to fit his 25 hp Husqvarna garden tractor. "I use it to clean out livestock trailers and barns, to remove snow from my driveway, to spread gravel, and to dump loads into my pickup or trailer.

"I pull back on one handle to dump the bucket, then pull back on the other handle to bring the bucket back up and relock it. The bucket latch is spring loaded so it always stays in place."

The loader can be attached or detached in about five minutes. Some drilling in the tractor's frame is required. "The loader's mounting brackets would interfere with a belly-mounted mower, so I have to remove the mower to use the loader," says Walton.
He also built a set of bale forks that bolt on inside the bucket, and a grapple fork that can be used to haul brush, loose hay, and so forth.
Walton says he's looking for a manufacturer.