Build-It-Yourself Bale Bagger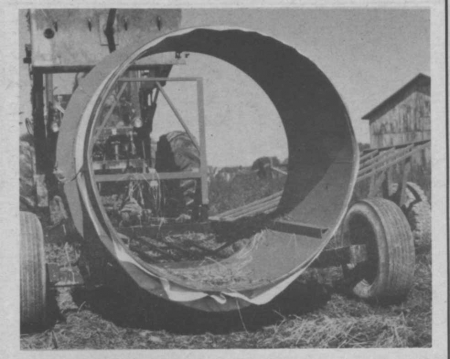 A Canadian farmer who built his own big bale bagger says his do-it-yourself bagger works great and his cows love the big bale silage he's now able to produce.
Jean-Noel Beaudry, who farms near Verner, Ont., puts as many as 22 bales in one big tube-shaped bag. He can also use his bagger machine to put individual bales in single bags.
"I first looked at the baggers on the market and then built my own. It works great for bagging bales from 40 to 80% moisture," says Beaudry. "The most expensive part was getting the round steel bale tube rolled and getting the 7-ft. long cylinder custom-built. I built everything else myself."
In operation, the bagger pulls like a trailer behind a tractor. A second tractor lays a bale on the slanted platform at the front of the bagger. The bale rolls down directly in front of the bagging tube and the 7-ft. cylinder, powered by tractor hydraulics, pushes the bale through the bale tube and into the bag. Then the operator pulls the bagger ahead to bag the next bale. A 1-in. rubber hose with a spring tied into it holds the bag in place on the bagger tube.
"This idea is catching on fast with dairymen in this area. Many farmers have built their own bale baggers. I can tell because I act as a dealer for big bale bags," Beaudry told FARM SHOW.