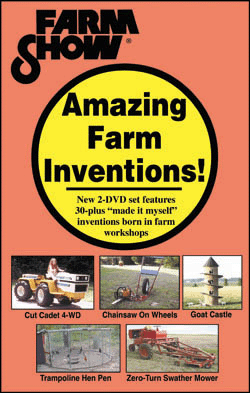 You won't believe your eyes when you see what's on our DVD! Amazing Farm Inventions brings to life 34 of the best "made it myself" ideas featured in FARM SHOW over the past few years.
Here's What You'll See On This 2-Disc DVD!
1/2-Scale IH 660 Tractor
The "Croc" Truck Resembles A Gator
Made-It-Myself Snowblower Truck
How To Make A 200-Lb. Cheeseburger
Amazine Luxury Cars Built By Rural Genius
World's Best Collection of Axes
Home-Built ATV Attachments
"Dualie" Cub Cadet
Nascar Snowblower
Tandem Lawn Tractor
Amazine Mini D8 Caterpillar
Tower Keeps Goats Entertained
Benches Made From Old Grain Drills
Money-Saving Home-Built Heating System
Simple Hydraulic Rock Scoop
Crowd-Pleasing IH Tractor & Plow Fest
Double Decker Lawn Mower
Lucky 13 Strip Till Rig
Made-It-Myself Firewood Processor
And much, much more!
Note: This is a Secured Web Transaction. However, if you would prefer to print out an order form that you can fax or mail to us,
click here
.
Price
---
Item #: VID0007