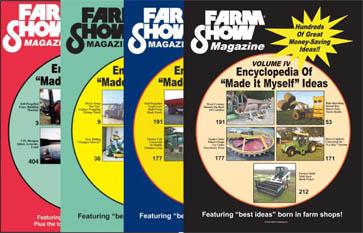 SAVE now on our Ultimate 4-Volume ENCYCLOPEDIA COLLECTION of "Made-It-Myself" Farm Inventions & Ideas when you buy all 4-volumes of our popular Encyclopedias.

Even if you're a long-time subscriber to FARM SHOW and have saved every issue, you'll want to have these four Encyclopedias in your library. Each 482-page Encyclopedia contains approximately 1,200 of the best stories from past issues of FARM SHOW Magazine.

Each Encyclopedia is indexed and cross-referenced so it's easy to search & find individual stories. No more wasting time paging through back issues. You get the full original story on each idea, complete with how-to details and photos, plus the inventor's name, address and phone number.
Volume I contains the best "made-it-myself" stories from 2000 to 2004.

Volume II contains the best stories from 2005 to 2009.

Volume III covers the years from 2010 to 2014.
Volume IV covers the years from 2015 to 2019.

Note: This is a Secured Web Transaction. However, if you would prefer to print out an order form that you can fax or mail to us,
click here
.
Price
---
Item #: BKS017