Chevy V-8 Powers 318 Lawn Tractor
Because he lives with Multiple Sclerosis (MS) and has limited mobility, Dan Brotzman was looking for a way to zip around the vintage tractor shows that he loves to attend. Using his background in engine mechanics and engineering, Brotzman decided to reconfigure his 318 Deere lawn mower with a V-8 engine plucked from an old Chevy pickup. He's been turning heads with his souped-up configuration ever since.
"It's a good conversation piece," Brotzman says. "With my MS, I can't walk all day at a show. I needed a mobility aid but didn't want something boring like a golf cart or an ATV."
After finishing work on the tractor, Brotzman replaced the old 318 identification stripe with an "8318" decal, honoring the machine's 8-cyl. engine. The tractor has its original hydrostatic drive with variable speeds forward and reverse. Since the gearing and the machine's transmission setup haven't changed, the tractor tops out at 8 mph, the same speed it had with the lawn tractor engine. Brotzman says the original engine was governed at 3,600 rpm's, but his modified setup could reach up to 6,000 rpm's before Brotzman installed a "bolt governor" on the dashboard throttle.
"The hydraulic pump doesn't like too many revs, so I set it to only run about 2,500," Brotzman says. "That keeps the ground speed down, but whatever speed I'm going, the twin stack exhaust sounds good." Brotzman says when people see the big engine, they immediately think the tractor goes really fast. He's quick to tell them the number of cylinders has nothing to do with speed.
One of the difficult issues with his project was that lawn tractor engines rotate counterclockwise while automotive engines rotate clockwise. Brotzman says he thought about that a lot and finally decided to mount the truck engine with the flywheel facing forward and the water pump and fan facing the back of the tractor.
"That worked out quite well," Brotzman says. "The tractor had a 1-in. drive shaft, so I was able to buy an adapter and hook that shaft to the front of the truck engine. Because of the added weight of a larger engine, he added power steering. He kept the original side panels for the tractor but extended the tractor's frame and placed a custom-made radiator on the front end to prevent overheating. The original Deere hood is the front nose piece, and Brotzman formed an aluminum hood behind the nose. The headlights are original.
To allow for extended driving time, Brotzman installed a 10-gal. gas tank in front of the radiator. The tractor's original 4-gal. tank is still underneath the driver's seat so he can tap into reserve fuel.
"With this setup, I can ride all day," Brotzman says. "It's harder on gas than the original 2-cyl., burning about a gallon to a gallon and a half an hour."
Brotzman says the tractor's heavy-duty 4-in. C-channel frame handles the engine torque smoothly, even though the whole rig weighs 1,750 lbs. "It's built way heavier than it needs to be, but that's okay."
As he drives around shows, Brotzman's beefed-up tractor receives all sorts of reactions, including requests to ride, which isn't a problem since he built it with a passenger seat.
Contact: FARM SHOW Followup, Dan Brotzman, W14729 Meisner Rd., Tigerton, Wis. 54486 (ph 715-535-2595; danb4230hc@yahoo.com).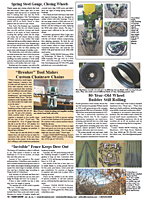 Click here to download page story appeared in.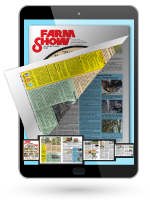 Click here to read entire issue