He Re-Created His Grandad's "Double Header" Tractors
"My granddad farmed more than 1,000 acres back in the 1950's and hooked two WD45 Allis tractors together to create what he called a 'Double Header' tractor," says Jim Batts of Lizton, Ind. "I was a kid when he did that and decided a few years ago to re-create his idea."
He bought two old WD45s and got them both running well. Then he built a hitch to connect the two tractors, cleaned everything up and painted the double tractor rig so it looks brand new. The project took him nearly three years, but he says it was more fun than work.
Batts says his grandfather built his Double Header because he wanted to make his farming operation more efficient. "Two guys driving two WD45s pulling two 3-bottom plows got a lot done, but one guy driving the tandem setup pulling a 5-bottom plow was more efficient," Batts says. "He built the tandem by removing the front wheels from one tractor and building a sturdy hitch that mounted on the drawbar of the other one. He bolted the hitch pulling the rear tractor to the front one so both tractors pulled in unison."
Batts says the operator rode on the front tractor and controlled both of them with levers for the clutches, throttles and hydraulics. He re-created his the same way. "The driver put both tractors in the same gear before he drove, then he'd engage the clutches at the same time, regulate the speed with the throttle lever and the hydraulics with the other lever. He always had to be concerned about throttling down the back tractor at the end of a field, so it didn't push the front one while turning."
The setup worked so well that Batts' grandfather built two more just like it. Each team would plow, pull a 16-ft. wide disk made from two 8-ft. disks or a 4-row planter made from two 2-row units. Batts says "he'd separate the tractors after spring plowing and planting and use them for cutting, raking and baling hay, cultivating, and pulling his three Allis combines during harvest. Unfortunately, he was killed by a drunk driver in 1960 during his farming heyday."
Batts says his dad and uncle took over the operation and continued using the Double Headers. They even teamed a D19 Allis with one of the 45s to pull an 8-bottom plow in the late 1960's. In 1974 they bought a "factory-built" 4-WD 850 Versatile that Batts says is still running today.
"Grandpa was a hard-working guy and a great mechanical mind who rebuilt a lot of machinery," Batts says. "Even with his large acreage he never owned a pickup, but he'd get a new car every year. He'd take the back seat out of his car and use that space to haul parts, seed, fuel and supplies around the farm. The seat only went in when the family went to town."
Contact: FARM SHOW Followup, Jim Batts, 8925 N. Cty. Rd 350 West, Lizton, Ind. 46149.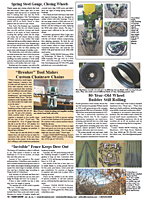 Click here to download page story appeared in.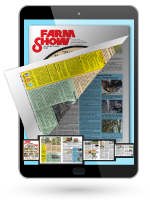 Click here to read entire issue
To read the rest of this story, download this issue below or click
here
to register with your account number.