Swivel Hook On Engine Hoist Made Out Of A Piece Of Steel Tubing
Steve Faber, Tiffin, Ohio: "I needed a swivel hook to use on my engine hoist so I made one out of a piece of heavy-wall steel tubing. I used a 2 1/8-in. long piece of 2-in. sq. tubing. I cut a slot in the top of the tubing for a chain link to slip through. The link is held in place by a 1/2-in. grade 8 bolt with a lock nut. A hook with a threaded shank fits into the bottom of the tubing, held in place with a castle nut and cotter pin so it can't come unscrewed.
    "This swivel is especially handy when removing my quick hitch, which is too heavy for me to lift by hand. Space is very limited in my shop so I was always fighting to keep the hitch from twisting while it hung from the chain. The swivel makes handling much easier whenever I need to turn a load.
    "Here's a tip for whenever you have to wash up outside at a hydrant in the yard after working in the shop. Any cheap soap will work. Just pick up a pinch of dirt to use as an abrasive along with the soap. It'll all wash off clean when you're done."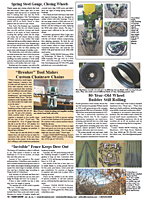 Click here to download page story appeared in.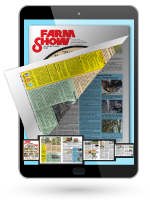 Click here to read entire issue