Easy Ways To Patch Control Cables
Roger Podoll has a quick fix for broken throttle or choke cables. If the outer sleeve is broken or too short, splice it with a second piece and slide a new wire through the two. He uses a variety of electrical connectors to secure one cable sleeve to another.
    "You can go to any big box store like Menards or Lowes and look for #8 or #10 inline union lugs," says Podoll. "Just slide in the cables and tighten down the set screws. Single set screw inline lugs with a predrilled tab are also handy for securing a cable out of the way."
    Podoll suggests drilling a second 3/16-in. hole in the lug at a 90-degree angle to the first. This leaves the predrilled hole in the tab for attaching to another surface.
    Another quick fix uses split-bolt and lug ground wire clamps. "The holes are big enough for the choke cables and a cotter pin or nail," explains Podoll. "When you tighten down the lug, the cotter pin or nail locks both clamps together."
    Another even quicker fix is to use shrink-wrap tubing. "Put multiple layers on and then use a thicker wrap over the top," says Podoll. "The thick wraps have a sticky substance on them. Shrink them down, and they will hold."
    Shrink-wrap tubing can also rescue cable that has been sitting unused and seems locked in place. Podoll uses the tubing to force oil over the wire and into the cable.
    "Put one end of the tubing over the tip of the oil can and the other end over the cable," says Podoll. "Shrink them down and you have a tight connection between the two. You also can use it to soak a bolt and nut with penetrating oil. Shrink the tubing over the nut or bolt and leave the other end as a stem. Fill the stem with penetrating oil and let it sit over night."
    Shrink-wrap tubing also works great to keep dirt out of spliced cables or as an insulator to keep them away from electrical wires. Simply slide them on the 2 cable ends before securing them with lugs or other connectors.
    Keeping choke cables from going bad in the first place can be as simple as making sure an engine has a good ground.
    "If you ever feel a choke or throttle cable is warm, take the ground apart on the frame and shine it up, perhaps add a couple of star washers or add another ground," says Podoll. "Without a good ground, the electricity can try to fuse the inner cable to the outer sheath."
    Contact: FARM SHOW Followup, Roger Podoll, W8772 State Rd. 21, Wautoma, Wis. 54982 (ph 920 295-2357).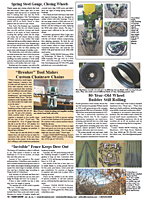 Click here to download page story appeared in.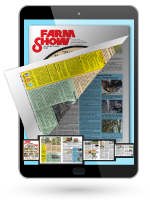 Click here to read entire issue