Dairyman Builds World's First Manure-Powered Feed Truck
After 6 years of planning and 2 years of building, the Straus Dairy Farm electric feed truck is now humming along. Albert Straus, along with a local mechanic and an electric vehicle expert, built the rig by converting a 1990's single-axle International Harvester straight truck from diesel to electric power. The truck now carries a mounted Kuhn/Knight TMR Mixer that Straus thinks is a"first of its kind" farm workhorse.
    Ultra-quiet and efficient, the truck's electric motor produces 170 hp., and 950 ft.-lbs. of torque, enough to haul, mix, weigh and unload 9 tons of feed. The 2 vertical mixing augers and the unloader are driven by a pto from the truck's transmission. Straus says "It doesn't have the speed of a diesel, but it has more torque and easily handles a full load."
    Early in the building process the team installed 2 DC motors, but those didn't allow automatic brakes, so the truck went too fast and the motors overheated. "During one test run the truck sped down a hill so fast the motor burned out and we had to tow the truck back to the barn," says Straus.
    As electric vehicle technology evolved, Straus and his team eventually installed a UQM motor (uqm.com), added an inverter, an electric air compressor, an electric power steering pump, a battery system with an on-board charger, and computers to control speed in different driving conditions. Now the truck can travel slow enough to unload feed yet fast enough – at 40 mph – to move quickly around the farm. Lithium-ion batteries that run the motor store 48 KWH of power.
    The batteries are re-charged overnight by electricity produced by the dairy's manure digester, which Straus built in 2004. That system also provides electricity for smaller farm vehicles and machinery, including Straus's all-electric Toyota RAV4 and a Nissan Leaf. Straus says the electric truck has allowed the organic dairy to go full-circle with energy production. "The truck delivers feed to the cattle, whose manure enters a digester, which creates gas to power a generator. That electricity recharges the batteries and heat created in the process provides warm water for the dairy. Separated solids and leftover liquids from the process are used as organic fertilizer on pastures." Straus says the average annual cost savings for the digester is $40,000 to $50,000. They had a 5–year payback on the system originally.
    Straus has been an innovative thinker since he began farming with his father in 1977. In the early 90's, they became all organic and created the Straus Family Creamery, producing non-homogenized milk sold in re-usable bottles.
    Up next, Straus plans to unveil an all-electric refrigerated delivery truck that will transport Straus Family Creamery products to San Francisco markets. He also wants to convert a diesel payloader to electric power.
    Contact: FARM SHOW Followup, Straus Family Creamery, 1105 Industrial Ave, Suite 200, Petaluma, Calif. 94952 (ph 707 776-2887; www.strausfamilycreamery.com).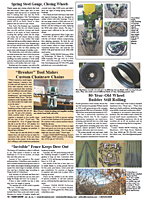 Click here to download page story appeared in.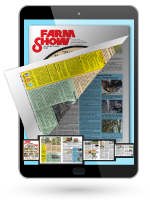 Click here to read entire issue